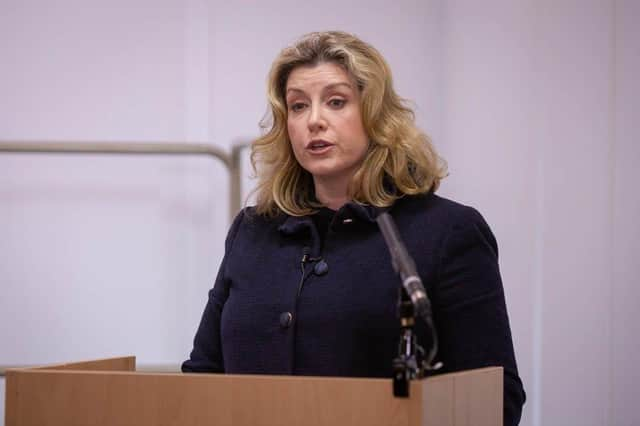 Penny Mordaunt MP Picture: Habibur Rahman
Portsmouth North MP Penny Mordaunt urged people to keep sticking to the rules after it was announced the city, as well as Havant and Gosport, would be in tier 3, after increased pressures to Queen Alexandra Hospital.
In a video posted to Twitter explaining Portsmouth's move into tier 3, Ms Mordaunt said: 'The main driver for this has been the capacity in our local healthcare.
'The ICU at the QA Hospital for example has been running at 200 per cent with patients having to be moved out into other hospitals.
'So we've got to ensure that our healthcare system remains robust, it would be a disaster if that falls over. And that's the reason why we've gone into this higher tier.'
It comes after Dr John Knighton, medical director at Portsmouth Hospitals University NHS Trust (PHU), told The News that Queen Alexandra Hospital has been under 'increasing pressure' in the last few weeks as the numbers of Covid-19 patients increases with staff having to work extra shifts and longer hours.
Latest NHS figures show that Covid-19 patients made up 18.7 per cent of occupied beds in PHU on December 15 compared with 4.5 per cent on November 3.
Dr Knighton, who is also a critical care consultant, said: 'Staff across our hospitals are working tirelessly including taking part in additional shifts and longer hours to ensure we continue to provide safe consistent care. As a trust we are finding ourselves under increasing pressure and while our communities have been fantastic in supporting us, we need you to keep going.'
Portsmouth City Council public health director, Helen Atkinson agreed with the move to tier three but understood the impact on mental wellbeing and the economy.
Ms Atkinson said: 'The hospital is seeing huge pressures at the moment not only from Covid but coupled with normal winter pressures so I do think we needed to be in tier three.
'I am expecting January and February to be really bad in terms of the infection rate because we will see the consequences of next week. We have a high infection rate already and it will continue to go up.'
A message from the Editor, Mark Waldron
The News is more reliant than ever on you taking out a digital subscription to support our journalism.