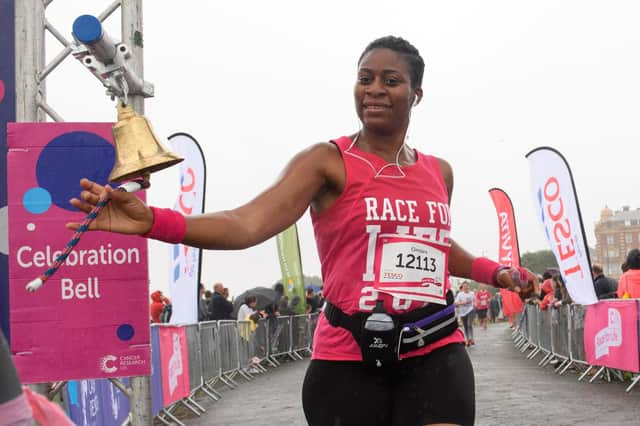 Finisher ringing the celebration bell at Race for Live 2019, Southsea. Picture: Keith Woodland (070719-371)
Cancer Research UK's Race for Life in Portsmouth has been scheduled for later this year and the charity hopes the event will help them as they predict a £300m drop in income over the next three years.
Georgina Horne, event manager for the Portsmouth race, said: 'All 400 mass-participation Race for Life events across the UK were cancelled last year to protect the country's health during the Covid-19 pandemic. So this year, more than ever, we need people to come together and help beat the disease.
'The truth is, Covid-19 has slowed us down. But we will never stop and we are absolutely determined to continue to create better cancer treatments for tomorrow.'
Every year around 52,100 people are diagnosed with cancer in the South East and one in two people in the UK born after 1960 will get cancer in their lifetime.
This year's Race for Life events, which will take place on Southsea Common on Saturday, July 10 and Sunday, July 11, will have added social distancing measures.
Participants will set off on the course either alone or in small socially distanced groups and hand sanitiser will also be provided.
Georgina added: 'As always at our events, the health and safety of participants, staff and volunteers is our top priority. It may be that events look a little different this year but we are working proactively with our venues and suppliers to deliver a socially distanced but great experience.
'Although 'Race' features in the name, our events are not competitive. Instead, 'the Race for Life' is about our doctors, nurses and scientists working as hard and fast as possible to help more people survive.
'We hope that none of our Race for Life events are cancelled in 2021 and will do everything we can to keep people safe. If we do have to cancel any of our events we will let participants know as soon as possible and they will be entitled to a refund.'
Anyone who signs up to the race in January can claim a special 30 per cent off the entry fee by using the code JAN2021.
To enter visit raceforlife.org
A message from the Editor, Mark Waldron
Our trial offer starts at just £2 a month for the first two months.