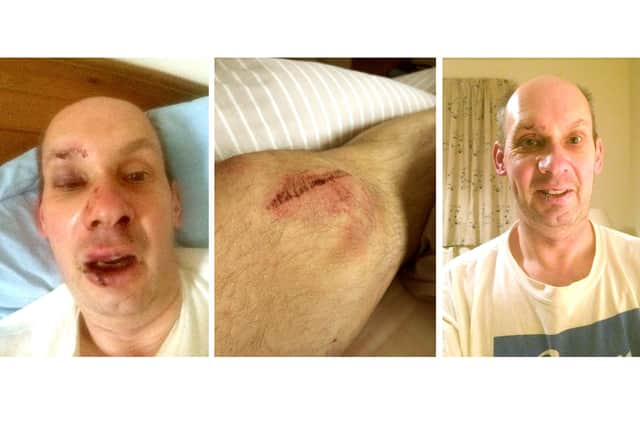 QA Hospital surgeon Professor Peter Brennan
Professor Peter Brennan said it was 'terrifying' when the rubber-footed ladder slipped as he cleaned the gutters at his home.
The Queen Alexandra Hospital consultant specialises in oral and maxillofacial surgery.
He is a keen researcher on patient safety and holds a PhD in human factors and medical error.
Top QA Hospital surgeon Professor Peter Brennan fell 18ft from a ladder while cleaning the gutters at his home near Southampton. Picture: Prof Peter Brennan.
Following slipping down a wall in the fall, Prof Brennan praised his colleagues at QA Hospital, who treated his several fractures, for giving 'amazing ongoing care'.
He posted photos of his swollen, bruised and cut face in the aftermath of the fall.
Addressing his 17,000 followers on Twitter last week he said: 'Been quiet as had unfortunate ladder encounter.
'Checked (and) double checked but bottom slid backwards (and) slipped down the wall from 18ft.
'Lots of injuries & multiple fractures. Just feel lucky to be alive.
'Can't praise our NHS colleagues enough for their amazing ongoing care to date.'
He told The News the care at QA Hospital had been 'nothing short of superb'.
He added he was 'cleaning the gutters of the house' when he fell, and it's a 'job I have done twice a year for countless numbers of years before'.
Now he is on the mend and has been into QA where he was met by medics with a name card.
He tweeted: 'Can't wait to get back to work when injuries have healed.'
Prof Brennan's tweet saw more than 800 responses, with an outpouring of support for the well-regarded surgeon.
Among them was the Royal College of Surgeons of England, where Prof Brennan is a member, which tweeted: 'Wishing Council member and friend @BrennanSurgeon a very speedy recovery, from everyone at RCS England.'
He later posted on Twitter and said: 'Thanks so much for all the kind messages after posting about my injuries this (week).
'Most terrifying (two) seconds of my life (and) thought I was going to die.'
Prof Brennan is lead editor of the latest Gray's Surgical Anatomy textbook, and has collaborated with the National Air Traffic Services and the Red Arrows in his research interests.
A message from the Editor, Mark Waldron
The News is more reliant than ever on you taking out a digital subscription to support our journalism.