15 photos of marathon runners across the Portsmouth area
We all love to be outside these days and keeping fit.
Monday, 28th June 2021, 5:12 pm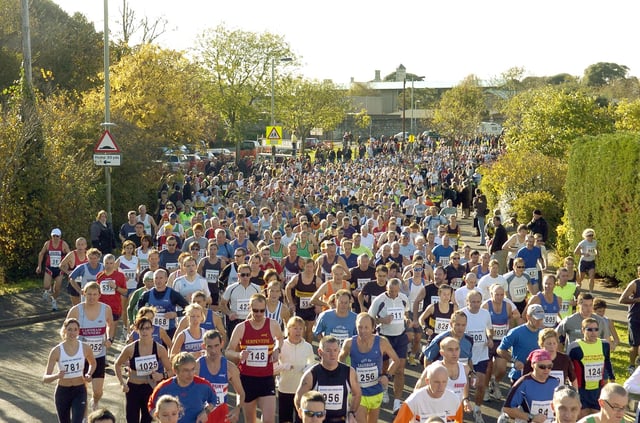 19th November 2006. Gosport half marathon pictured at the start at Bay House School. Picture: Paul Jacobs 064957-2
Running has to be one of the most pleasurable pastimes and great for your mental health as well.
In this selection you will see Gosport, Havant, Hayling Island and Portsmouth marathon and half marathon events from the past.
Can you spot yourself in the sea of faces in these inspiring images.
The Gosport & Fareham marathon in 1987. The News PP4960
Havant Half marathon starting line, but what was the year? The News PP3746
Runners of Gosport run the 10K marathon in 1993. The News PP4022
19th November 2017. Gosport Half Marathon, Alverstoke, Gosport. Pictured is: Start of the race. Picture: Neil Marshall (171338-1)
Gosport Half Marathon down Gomer Lane on November 23, 1987. The News PP3744
21st November 2004. The start of the AMS 18th Gosport Half Marathon event in Gomer Lane, Gosport. Picture: Michael Scaddan. (045712-0011)
Fareham and Gosport marathon start line on April 9, 1987. The News PP3743
12th February 2017. Portsmouth Coastal Half Marathon race will start around Pyramids Centre and Castle Fields, heading out to seafront. The race starts at 9.15am. First finishers will be in some time between 10.15am - 10.40am. It's an out-and-back course to Eastney and up to the Portsmouth Watersports Centre. Picture: Habibur Rahman
The off-runners begin the ten mile Hayling Island marathon, 1994. The News PP4962
24th November 2007. The start of the Gosport Half Marathon. Picture: Steve Reid (074755-19)
Kevin Jaques celebrating his win at the Portsmouth half marathon, 1987. The News PP4941
Gosport Half Marathon. The start. Picture: Ian Hargreaves (171119-14)
Participants in the 1994 Portsmouth half marathon. The News PP4942
24th November 2007. The start of the Gosport Half Marathon. Picture: Steve Reid (074755-23)