20 throwback photos from fish and chip shops across Portsmouth area
Perhaps you feature in one of these images or used to run one of these chip shops in the area?
Tuesday, 15th September 2020, 11:20 am
Updated
Wednesday, 16th September 2020, 10:45 am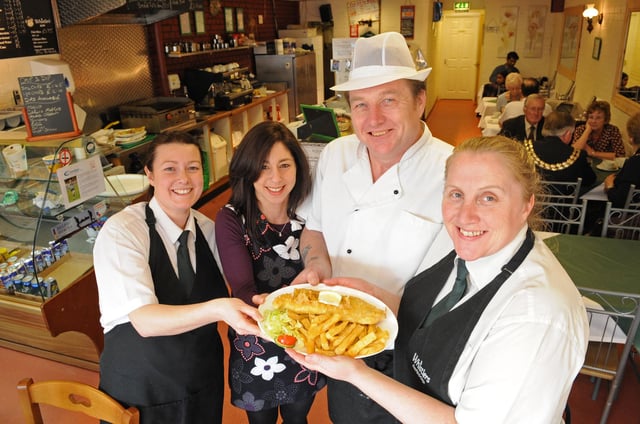 2011. Whistlers Fish and Chip shop in West Fareham. (left to right) Lindsey Arnott (30), Rana Hammami (37), Bill Bishop (49) and Sandra Bishop (42). Picture: Malcolm Wells 110911-5644
Most of us love a portion of fish and chips!
Perhaps you have good memories of calling into one of these places after a night out or after work?
2006. Kingfisher Fish and Chips shop at Albert Road, Southsea. Picture: Michael Scaddan 060315-0045
To coincide with the launch of The News Chippy of the Year, we thought we'd give you a blast from the past with some images of chip shops past and present.
Of course some of these shops no longer exist, but some are still thriving and have quite different updated shop fronts today.
Get involved in voting for your favourite Chippy of the Year 2020 when you see it appear in The News, as we'd love to know your opinion.
2006. Fryday's Fish and Chips at London Road, Purbrook, Waterlooville. Picture: Michael Scaddan 060315-0101
2011. Whistlers Fish and Chip shop in West Fareham. (left to right) Mrs Francesina Henderson (80) is served her regular cod and chips by Sandra Bishop (42) . Picture: Malcolm Wells 110911-5619
2006. The Fish Shop in Park Parade, Leigh Park. Picture: Michael Scaddan 060315-0103
2006. Mother Kelly's Fish & Chips at Southampton Road, North Harbour, Portsmouth. Picture: Michael Scaddan 060315-0163
2014. Mother Kelly's Fish and Chip shop in Portsmouth. Pictured is: Kathy Ellis (76) and Roger Nicholson (75) from Gosport. Picture: Sarah Standing 143551-3074
2010. Claire Greenwood, and Stephen Sayle at chip shop Rock and Sole, in North End. Picture: Ian Hargreaves 102573-1
2006. Skippers Fish & Chips at Trinity Street, Fareham. Picture: Michael Scaddan 060315-0143
2010. Whistlers' fish and chip shop in West Street Fareham. Picture: Malcolm Wells 102541-873
2017. Scott's Plaice in Gregson Avenue, Gosport. Pictured is: (l-r) Josh Noyce, owner Scott Turner and Steven King. Picture: Sarah Standing 170719-2752
2011. Whistlers Fish and Chip shop in West Fareham. (left to right) The Mayoress of Fareham Cllr.Susan Bayford joins the Mayor of Fareham Cllr. Brian Bayford. Picture: Malcolm Wells 110911-5611
2006. May's of Cosham Fish amd Chips at High Street, Cosham. Picture: Michael Scaddan 060315-0230
2006. Mac's Fish and Chips at Allaway Avenue, Paulsgrove, Portsmouth. Picture: Michael Scaddan 060315-0174
2010. L-R Jamie Stroulger 20, Alan Smelt 46 co-owners of AJ's Place, fish and chip shop in Cambridge Road, Gosport. Picture: Paul Jacobs 100796-1
2006. Catering tutor Matt Hinks from South Downs College (left) and Chris Sevier, counter sales manager of Viviers Fish Market in Old Portsmouth (right). Picture: Michael Scaddan 060315-0190
2006. Staceys Fish and Chips at Forton Road, Gosport. Picture: Michael Scaddan 060315-0163
2006. Britannia Fish and Chips shop at The Hard, Portsea, Portsmouth. Picture: Michael Scaddan 060315-1b
2015. Bill's Chippy in Mill Road Waterlooville. Sarah Jones, Leon Wilson,Valerie Toomer, Liam Hall, Sharon Kercher, Dail Berry, Callam Griffiths, Janice Kennedy and Bill Isherwood. Picture: Allan Hutchings 150714-426
2013. Coastguard Fish and Chips at the seafront Hayling Island. L-R Sam Bird, Toby Strickland, George Reed, Emily Cranstone, Marion Clements, Noreen Morrison, owners Jeff and Caroline Clark and their daughter Charlotte Clark. Picture: Paul Jacobs 132276-1
2011. Whistlers Fish and Chip shop in West Fareham. (left to right) Lindsey Arnott (30), Rana Hammami (37), Bill Bishop (49) and Sandra Bishop (42). Picture: Malcolm Wells 110911-5644