22 photos that will take you back to Fareham in the 1980s
It was a time when the Ford Cortina was popular, Return of the Jedi was at the cinema, people loved Gremlins and we all had a Sony Walkman.
Tuesday, 23rd June 2020, 4:50 pm
Updated
Tuesday, 23rd June 2020, 4:51 pm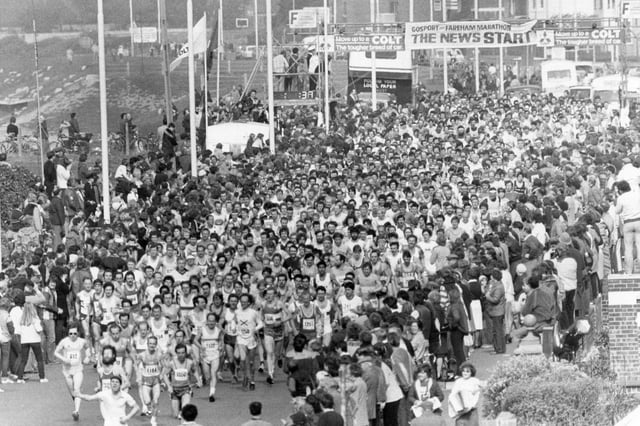 Gosport and Fareham marathon in April 1987. The News PP883
So why not take a trip down memory lane and relive life in Fareham in the 1980s – see how much has changed and what has stayed the same in our gallery.
See if you feature in any of these images from the 80's. If you spot yourself and would like a copy of the image call Photosales on: 0330 403 0033 or Email: [email protected] To see more Retro galleries go to: Portsmouth.co.uk and head to the Retro section.
Work on the Quay Street roundabout flyover at Fareham, looking north in August 1985. The News PP989
Embassy Cinema in Fareham on West Street 1983. The News 2455-1
Petersfield V Fareham - Rugby taken on Sept 26th 1989. The News 2502-1
Price's College in Fareham in September 1989. The News PP1057
Repairs take place on the steeple at Holy Trinity Church in Fareham on August 2 1988. The News PP3173
Eye in The Sky Series - A32 Fareham, October 1989. The News PP3148
Fareham's Embassy cinema was showing 'Star Wars: The Return of the Jedi' in July 1983. The News PP3164
The A32, Gosport Road leading into Fareham in 1988. The News PP5467
A tranquil Fareham house in May 1986. The News PP3165
The Gosport & Fareham marathon in 1987. The News PP4960
A view of the work in progress on the Delme Roundabout Flyover, showing the giant pile-driver in position and the route that the road will take in November 1983. The News PP987
A busy Fareham High Street on November 30 1983. The News PP3171
Tom Parker Dairies in Fareham take precautions after spread of foot and mouth disease in March 1981. The News PP385
Fareham's west street precinct with the playground marking the centre in 1985. The News PP4691
Fareham Creek in August 1982. The News PP4683
The Great Storm flooded roads such as Wickham Road in Fareham, October 1987. The News PP4118
Fareham United Reformed Church in July 1987. The News PP4686
Fareham Bus Station, April 1980. The News PP3156
St Philip Howard, Bishopsfield Road, Fareham in June 1980. The News PP4684
The gravel yard at Fareham railway station, the proposed expansion of which is causing concern among people living nearby. 28th March 1980. The News 800576-1
The interior of the Embassy Cinema in Fareham on West Street 1983. The News 2455-5