25 memories of Eastney Barracks from over the years
Eastney Barracks was originally built as the headquarters for the Royal Marine Artillery, who moved there from Fort Cumberland in 1867.
Monday, 11th May 2020, 1:55 pm
Updated
Monday, 11th May 2020, 1:57 pm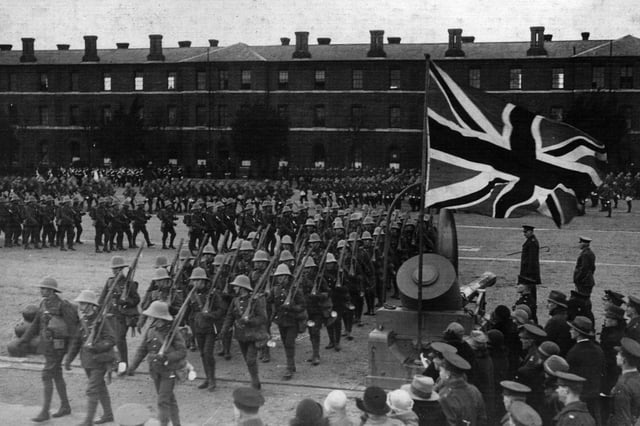 A turn of the century view of a parade at Eastney Barracks
The barracks were previously called 'the best and most complete barracks of the post-Crimean War period' but after 1995 they were sold and converted to private housing.
The Royal Marines Museum in Portsmouth, which was started at the barracks in 1958, was based in the former officers' mess from 1972 to 2017.
We have had a look back through the archive to find some historic photos of the barracks, including what life was like for those who were based there.
An undated image of Eastney Barracks
Drivers at Eastney Barracks. The late Mr Frederick Scott centre.
View of Eastney Barracks from the south-west c1890. Eastney Fort West can be seen in the foreground with a gun showing. Eastney Fort East is just visible in the far distance to the right. Note the esplanade road has yet to be built.
Undated image from Eastney Barracks
Undated image from Eastney Barracks
The last ceremonial parade at Eastney Barracks, Sunday, August 31, 1930, of the Royal Naval School of Music, Eastney. The News PP1379
Members of 429 Squad at Eastney Barracks. The News PP1377
Royal Marines Barracks, Eastney in June 1985. The News PP4668
The Royal Marines Barracks in Eastney, Silver Bughes in 1942. The News PP4666
Royal Marines leaving Eastney barracks in November 1991. The News PP5146
Colonel Marchant is pictured being towed into retirement at the royal marines barracks, Eastney
Exterior view of the Crinoline Church at Eastney barracks.
Football Team 1950-51 The Miles Cup. Back: Headmaster Mr Simmonds, Slade, Kenyan boy, Hawes, Thompson, Ough, Mr Richards. Middle: Loft, Gleed, Shaw, Goble, Murphy. Front seated: Hall, Setford.
Eastney Barracks, Eastney 1926
Drill shed, Eastney Barracks.
Royal Marine Artillery infirmary, Eastney Barracks
With long gunnery gaiters and sword bayonet's fix to their rifles we see Marines changing guard just inside Eastney Barracks main gate.
The Wessex Regiment No. 4 Guard parade at Eastney Barracks
Eastney Barracks and surrounding area.
Royal Marine Cadet Band, Eastney Barracks, 1950. The full title of the band is Royal Marine Cadet Fife and Drum Band taken in 1950.
Members of the Royal Marines at marching drill on the parade ground at Eastney Barracks, Portsmouth, January 1927. They are about to embark for China.
Inspection by the Duke of Wellington at Eastney Barracks.
Prince Harald of Norway visited Eastney Barracks.
Old Eastney Barracks possibly. Royal Marine Barracks, Portsmouth
A turn of the century view of a parade at Eastney Barracks