18 lost Portsmouth shops our readers miss the most
OVER the years our high streets have transformed as the shops that make them special have chopped and changed.
Tuesday, 5th May 2020, 5:17 pm
Updated
Tuesday, 5th May 2020, 5:33 pm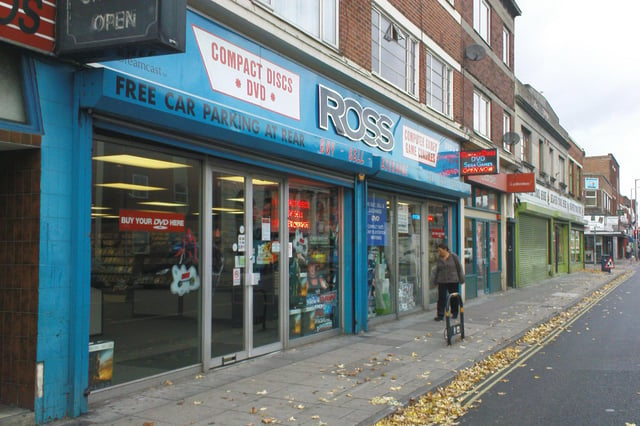 Ross Records opened decades ago and sold vinyl, video games, consoles, DVDs and the electrical like as technology advanced over the years. It is now permanently closed.
Some, more than others, held a special place in your hearts – so we've compiled a round-up of 18 of the closed Portsmouth shops you said you would love to visit one last time.
Each was recommend by readers of The News as they reminisced on Facebook. Honourable mentions – which we couldn't find pictures for – were: Chelsea Girl, Trotters, EW Burnett & Sons, Snob, Faith, Hargreaves Sports, Frank Whitcomb's and Ravel. Which of all these do you miss the most?
A few of you said you long for the sweet treats at Verrecchia's old coffee house and ice cream cafe, left. The Civic Offices now stand where it once did.
The Woolworths store on Commercial Road was a hugely popular suggestion. The shop shut in 2009 as the company entered administration.
Formerly standing opposite Knight and Lee, Handleys was totally bombed in the Second World War, then rebuilt, before becoming part of Debenhams in the 1970s.
So many were shocked when this popular family party shop announced its closure in 2019. It was open for more than 94 years.
A few of you pined for a bargain in C&A, which had been a staple in Portsmouth's city centre for decades. It was the city's first big shop re-opened after the Second World War.
Formerly a national favourite, this shop shut its doors for good along with others across the country in April, 2018 after it fell into administration.
Another department store, Allders finally lost its financial battle in 2012 when it fell into administration. It had done so seven years earlier, but was rescued by Tillman.
The traders' market at the demolished Tricorn Centre was also popular with readers. The centre, famed for its brutalist design, was demolished in 2004.
It is only partly visible in this 1961 photo, but Shirt King was suggested multiple times by readers wanting to visit it just once more.
This photo was taken in 1975, when North End was one of the city's bustling shopping spots. Many of you said you miss the choice of the Co-op department store there.
The ill-fated John Lewis store, Knight and Lee, was always going to be a popular mention among readers. Tears were shed when it closed last summer.
Littlewoods is another store you miss. Here are former staff Shirley Jones, Flo Paterson and Margaret Howard chatting on the shop's last day in 2006.
Again, with the feature of Mothercare, Commercial Road continues to be a hotspot for lost shops you miss. It was closed in 2019.
The downfall of BHS and its 163 stores was announced in 2016. We lost stores in Portsmouth, Fareham and Chichester. Here's the Cascades store in 1991.
The loss of this store is still raw. We only lost Debenhams in Southsea in January. Many of you would love it back.
The former premises of Laura Ashley are now occupied by The Panero Lounge, a sister restaurant of the Cosy Club.
One reader said they missed the buzz of the Arundel Street Arcade. Here it is - with bowling and bingo to boot - in 1998.
Ross Records opened decades ago and sold vinyl, video games, consoles, DVDs and the electrical like as technology advanced over the years. It is now permanently closed.