33 memories of when D-Day put the world's eyes on Portsmouth
The eyes of millions of people around the world were on Portsmouth a year ago today as the city hosted the UK's national D-Day 75 commemorative service.
Friday, 5th June 2020, 12:45 pm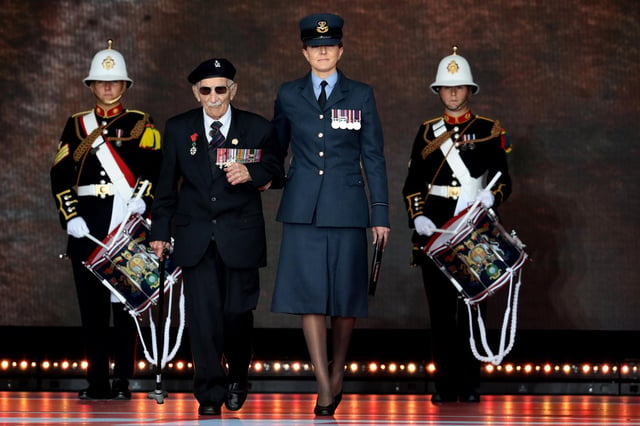 Veteran John Jenkins MBE takes to the stage during the D-Day Commemorations. Picture: Dan Kitwood/Getty Images
The service included readings by veterans and political leaders, musical performances and re-enactments from D-Day.
Here are some of the best pictures from the service.
D-Day 75. Picture: Chris Moorhouse
Britain's Queen Elizabeth II attends an event to commemorate the 75th anniversary of the D-Day landings, in Portsmouth. Picture: JACK HILL/AFP/Getty Images
Veterans gather on stage at the D-Day 75 Commemorations on June 5, 2019 in Portsmouth. Picture: Chris Jackson-WPA Pool/Getty Images
Performers dressed as soldiers perform during an event to commemorate the 75th anniversary of the D-Day landings, in Portsmouth. Picture: DANIEL LEAL-OLIVAS/AFP/Getty Images
Guests watch during an event to commemorate the 75th anniversary of the D-Day landings, in Portsmouth. Picture: TOLGA AKMEN/AFP/Getty Images
Queen Elizabeth II and US President, Donald Trump. Picture: Chris Jackson-WPA Pool/Getty Images
Helicopters fly over the stage as Sheridan Smith sings during the D-Day 75 event on Southsea Common
French President Emmanuel Macron kisses US First Lady Melania Trump in greeting as they attend an event to commemorate the 75th anniversary of the D-Day landings, in Portsmouth. Picture: JACK HILL/AFP/Getty Images
Prince Charles, Prince of Wales, Queen Elizabeth II, President of the United States, Donald Trump and First Lady of the United States, Melania Trump prepare to meet veterans. Picture: Jeff J Mitchell - WPA Pool /Getty Images
US President Donald Trump talks with US First Lady Melania Trump in the royal box. Picture: CHRIS JACKSON/AFP/Getty Images
Members of the British Navy, Army and Royal Air Force (RAF) take part in an event to commemorate the 75th anniversary of the D-Day landings, in Portsmouth. Picture: MANDEL NGAN/AFP/Getty Images
Canadian Prime Minister Justin Trudeau (L) poses for a selfie photograph with Leader of Portsmouth City Council Gerald Vernon-Jackson during the event. Picture: CHRIS JACKSON/AFP/Getty Images
World leaders during the D-Day Commemorations. Picture: Photo by Dan Kitwood/Getty Images
US President Donald Trump stands and speaks during the event. Picture: DANIEL LEAL-OLIVAS/AFP/Getty Images
Performers speak on stage during the D-Day Commemorations. Picture: Dan Kitwood/Getty Images
French President Emmanuel Macron (L), Theresa May, Prince Charles, Prince of Wales and Britain's Queen Elizabeth II attend the event. Picture: DANIEL LEAL-OLIVAS/AFP/Getty Images
Sheridan Smith sings on stage during the D-Day Commemorations. (Photo by Dan Kitwood/Getty Images)
President of the United States, Donald Trump and First Lady of the United States, Melania Trump sit next to Queen Elizabeth II as they attend the D-Day Commemorations. Picture: Dan Kitwood/Getty Images
Theresa May stands and speaks as she reads a letter written by Captain Skinner. Picture: DANIEL LEAL-OLIVAS/AFP/Getty Images
Canadian Prime Minister Justin Trudeau stands and speaks. Picture: MANDEL NGAN/AFP/Getty Images
Veterans take part in the event to commemorate the 75th anniversary of the D-Day landings, in Portsmouth. Picture: MANDEL NGAN/AFP/Getty Images
French President Emmanuel Macron stands and speaks during an event. Picture: DANIEL LEAL-OLIVAS/AFP/Getty Images
Members of the public watch a fly past during an event to commemorate the 75th anniversary of the D-Day landings, in Portsmouth. Picture: ISABEL INFANTES/AFP/Getty Images
Members of Britain's Household Cavalry react during an event to commemorate the 75th anniversary of the D-Day landings, in Portsmouth. Picture: CHRIS JACKSON/AFP/Getty Images
World leaders pose for the official photograph. Picture: JACK HILL/AFP/Getty Images
The Queen's speech at D-Day 75. Picture: Chris Moorhouse
Royal Marine drummers at D-Day 75. Picture: Chris Moorhouse
D-Day 75. Picture: Chris Moorhouse
D-Day 75. Picture: Chris Moorhouse
D-Day 75 - US naval officers. Picture: Chris Moorhouse
D-Day 75. Picture: Chris Moorhouse
Commando Jim Booth, 97, and his daughter Vicky Pugh