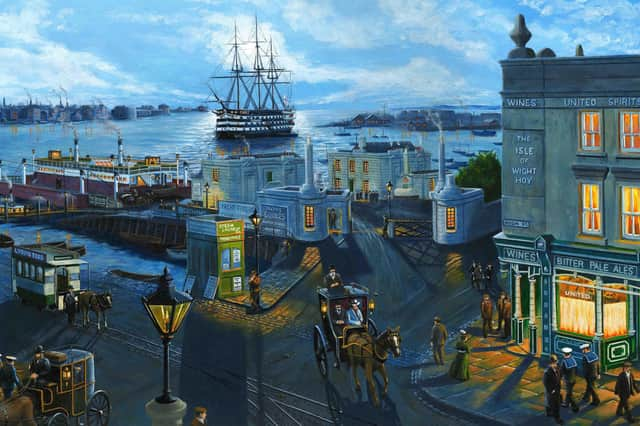 Local artist Neil Marshall has produced yet another marvellous Portsmouth Harbour image, this time from Gosport.
From the left we have a horse-drawn tramcar, the chain ferry to Portsmouth Point, HMS Victory and a Hansom cab.
Across the harbour can be seen the Round Tower and the Square Tower of Portsmouth Harbour defences. To the right of the Victory is where HMS Dolphin, the submarine base would be later built.
To purchase a print, contact Neil on [email protected]; call 07469711700 or visit neilmarshall art.co.uk.
Southsea Terrace circa 1890. Long before the combustion engine here we see horse drawn vehicles on the common opposite Southsea Terrace.
:: I have received several photographs from an anonymous reader so cannot credit this photograph to anyone.
It is, of course, looking east towards Southsea Terrace, Southsea long before the invention of the combustion engine and before the peace and quiet of the area was broken.
I believe – but stand to be corrected – the small hut-like building, was a drivers rest room and tea bar. Long before the days of Aqua Cars taxis of course when a cab ride was in an open-topped landau.