Are you pictured in our retro Bridgemary Festival gallery?
We hope you'll enjoy looking back at all these wonderful colourful images Bridgemary Carnival over the years.
Saturday, 4th July 2020, 5:07 pm
Updated
Saturday, 4th July 2020, 5:09 pm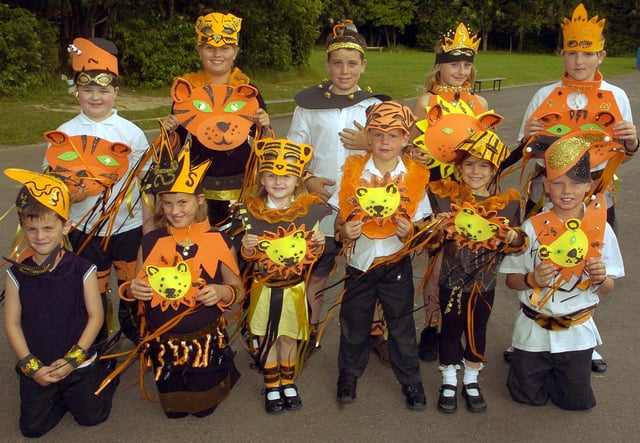 Woodcot Primary School prepare for the Bridgemary Carnival 21st June 2007. Front L-R Jake Wilson 8 , Shannon Wilson , Viola Bushell 5 , Aiden Webb 7 , Ruby Pilgrim 5 , Jamie Smith 9.Back L-R Connor Price 8 , louise Gee-Barber 10 , Jack Pilgrim 14 , Emily Pryke 11 , Olivia Bushell 11. Picture: Paul Jacobs 072570-4
Crowds of people turn out for the Gosport event every year and you can see lots of happy faces in our gallery.
If you spot yourself or a friend in an image and you would like to buy a copy, please feel free to contact our photosales department via email ([email protected]) or call 0330 403 0033.
The Bridgemary Carnival heads off around the estate 21st July 2007. Picture: Steve Reid 072992-24
The Bridgemary Carnival which started at Bridgemary School in Wych Lane 19th July 2008. Big smiles from Woodcot School. Picture: Malcolm Wells 083068-5055
The Bridgemary Carnival which started at Bridgemary School in Wych Lane 19th July 2008. The truly stunning Batala group who led the carnival procession. Picture: Malcolm Wells 083068-5156
The Bridgemary Carnival which started at Bridgemary School in Wych Lane 19th July 2008. Holbrook Twirlers. Picture; Malcolm Wells 083068-5077
The Bridgemary Carnival which started at Bridgemary School in Wych Lane 19th July 2008. Bedenham Primary School prepare to move off. Picture: 083068-5143
The Bridgemary Carnival which started at Bridgemary School in Wych Lane 19th July 2008. The Procession gets underway. Picture: Malcolm Wells 083068-5188
The Bridgemary Carnival which started at Bridgemary School in Wych Lane July 2008. Children in the company of The Mayor of Gosport Derek Kimber. Picture: Malcolm Wells 083068-5066
The Bridgemary Carnival makes its way through the streets. Dorothy Temple School of Dance 17th July 2010. Picture: Paul Jacobs 102248-16
The Bridgemary Carnival marching on through the downpour 16th July 2011. Picture:Steve Reid 112522-355
The Bridgemary Carnival makes its way along Gregson Avenue 17th July 2010. Picture: Paul Jacobs 102248-4
The Bridgemary Carnival makes its way along Gregson Avenue 17th July 2010. Picture: Paul Jacobs 102248-3
The Bridgemary Carnival makes its way along Gregson Avenue, Big Noise Samba band 17th July 2010. Picture: Paul Jacobs 102248-5
The Bridgemary Carnival marching on through the downpour 16th July 2011. Picture:Steve Reid 112522-401
The Bridgemary Carnival makes its way along Gregson Avenue. Dorothy Temple School of Dance 17th July 2010. Picture: Paul Jacobs 102248-7
Action from the Bridgemary Carnival 14th July 2012. The 2nd Bridgemary Rainbows.Picture: Steve Reid 122392-504
Action from the Bridgemary Carnival 14th July 2012. The Dorothy Temple School of Dance. Picture: Steve Reid 122392-497
Action from the Bridgemary Carnival 14th July 2012. Holbrook Primary School pupil. Picture: Steve Reid 122392-510
Action from the Bridgemary Carnival 14th July 2012. Pupils and staff from Bridgemary School. Picture: Steve Reid 122392-833
The Bridgemary Carnival took place on Saturday 20th July 2013. The Rose and Thistle Pipe and Drum Band during the carnival. Picture: Sarah Standing 132027-1885
The Bridgemary Carnival took place on Saturday 20th July 2013. The Big Noise Community Samba Band during the carnival. Picture: Sarah Standing 132027-1857
Woodcot Primary School prepare for the Bridgemary Carnival 21st June 2007. Front L-R Jake Wilson 8 , Shannon Wilson , Viola Bushell 5 , Aiden Webb 7 , Ruby Pilgrim 5 , Jamie Smith 9.Back L-R Connor Price 8 , louise Gee-Barber 10 , Jack Pilgrim 14 , Emily Pryke 11 , Olivia Bushell 11. Picture: Paul Jacobs 072570-4