Did Nelson spend his last night on English soil at this Havant hotel? | Nostalgia
Most people know the legend that Horatio Nelson arrived at the George Hotel in High Street, in what is now Old Portsmouth, on Saturday morning, September 14, 1805.
Wednesday, 22nd April 2020, 5:34 pm
Updated
Wednesday, 22nd April 2020, 5:36 pm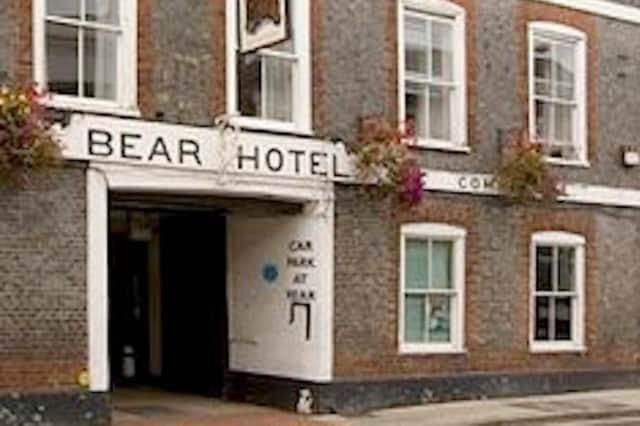 The Bear Hotel, Havant. Records are supposed to show it is where Nelson spent his last night on English soil.
It is believed that Nelson had been travelling in his coach since 10.30 the previous evening, but I have just found some evidence that he actually spent the night in the Bear Hotel in East Street, Havant.
Unfortunately, because of coronavirus and the hotel being closed, I cannot research the story until further notice.
In October 1962 a Mrs E. Harper wrote in the Hampshire Telegraph: 'On Thursday, September 12, 1805, soon after one o'clock, a Cabinet Council was held and Nelson took his final instructions previous to the command to which he was lately appointed.
Frontage of the popular century-old King's Head pub in Marmion Road, Southsea.
'On the evening of the 13th he dined at Merton and saying his farewell to Lady Hamilton set off for Portsmouth.'
It is believed the London road of the time passed via Blendworth to the north of Horndean with the road to Havant leading east from the village as it does today.
Old records from the Bear Hotel in Havant show that Nelson slept there before leaving early the following morning to arrive at the George in Portsmouth where he had breakfast and then later left for immortal glory at Trafalgar.
I have yet to see these records but if Mrs Harper is correct it certainly puts a different light on Nelson's last evening on English soil. If anyone has other evidence I would like to see it.
HMS Vernon main gate. Picture: Barry Cox postcard collection
• In the early 1970s much of Southsea, in the Marmion Road area, was planned to be demolished for new housing and shops.
The King's Head, more than a century old and at 44, Marmion Road, was to be demolished. The earliest deed to the pub went back to 1866, although there was another pub with the same name on the site before that.
The No1 compulsory purchase order made by the council covered premises fronting six roads, Marmion Road, Boxgrove Place, Dover Road, Richmond Place, Fontwell Road and Lennox Road North. Also included were 15 residential and commercial premises in Marmion Road, St Jude's Church hall, The Friary and a building in Dover Road.
The demolition brought big changes to a much-loved area and the introduction of Waitrose, which opened on July 3, 1979.
• Finally we have a pre-1930s' view along Park Road, Portsmouth, to its junction with St George's Road looking into HMS Vernon. A tram is turning right heading for The Hard. To the right of the tram is where the wall into Vernon was demolished to make an entrance for Gunwharf Quays.