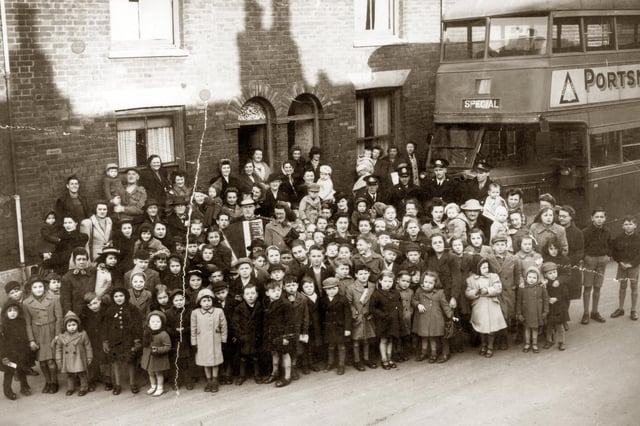 Residents gather in Buckland, Portsmouth, with 'Bunky Doo-dalee-do' starring on accordion, real name Alfred Nicholson. The image was taken in 1945 in Sultan Road. Picture: Courtesy of Brian Duke
He used to help run the boys' club in Fratton Road, opposite St Mary's Church and was well known for his Meccano skills at one time constructing a large model of either the Queen Mary of Queen Elizabether liners.
He played his accordion at parties and to the queues outside cinemas.
Bunky also sold the Football Mail at the top of Sultan Road, Buckland. Indeed, Buckland is our theme today.
The Elephant & Castle in Sultan Road, Buckland, with elephants provided by a visiting circus in 1930. The chap holding the bucket, which was filled with beer, was the aptly-named Charlie Phillpots, the pub's cellarman.
Residents of Seymour Street, Buckland, tuck in to their coronation tea in 1953. At the far end Barrington House is under construction.
Kay Britno (nine) on the left and a friend from Madame Selwood's dance troupe, outside her grandparents' house in Moorland Road, Buckland, entertaining the neighbours at a Festival of Britain street party in 1951.
The children of Buckland Street, Buckland, taken, I should think, sometime in the 1930s.