Do you remember these shops from Fawcett Road in Southsea?
There are some great old images here to enjoy from over the years, some dating back to around 1906.
Tuesday, 18th May 2021, 1:30 pm
Updated
Thursday, 20th May 2021, 5:21 pm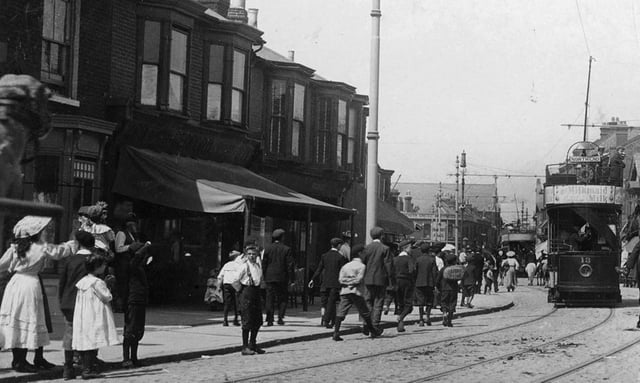 Bedford's on the left in Fawcett Road 1906 This wonderful photograph looking north up Fawcett Road on a hot summers day. In the distance can be seen the roof of Rugby Road Church which still stands, although now flats.
In this lovely selection you will see images that included Postlethwaites chemist at 131 Fawcett Road, Seward's Newsagents at 193 Fawcett Road, the popular Cigar Box and J H Bowers and Son repairers shop.
Perhaps you have some good memories of popping into some of these shops and pubs? Maybe you have some great old images you have kept safe that have been handed down in your family of Portsmouth and Southsea shops and would like to share them on our Portsmouth Retro facebook?
Goddards in Fawcett Road, Southsea, in the late 19th century
You can subscribe here for unlimited access to our online coverage, including Pompey, for 27p a day.
J H Bowers and Son repairers shop Dennis, third from the right, as a boy outside his late father's shop in Old Fawcett Road. To the right is his father and far left two brothers, Roy and Eric.
Anne Stockham's Dad in their shop Sewards at 193 Fawcett Road Picture: Courtesy of Anne Stockham (nee Seward)
Fawcett Road taken 5th April 1971 Wash Well Launderette, Robbie's Meat Pies and Sausage Rolls and Jones of Southsea
Flightworld Travel Agents and Concert Travel, Fawcett Road, ceased trading, image taken 7th August 1990. They were offering trips to see Depeche Mode, David Bowie and Erasure at Milton Keynes and Wembley.
Red White and Blue pub at Fawcett Road, October 1979
The Crystal Palace pub on the corner of Fawcett Road at Fratton Bridge Sent in by Bill Dodd of Portchester and firstly we see many Pompey fans' favourite drinking house, the Crystal Palace Hotel south of Fratton Bridge. This wonderful pub was once run by former Pompey player Jock Anderson who scored a goal in the 1939 F.A. Cup Final. The cyclist has just passed over Fratton Bridge and is heading south down Fawcett Road. The pub was another superb building demolished for road improvements.
Lyttons shop in Fawcett Road, Southsea
The newsagent's C&M Seward of 193 Fawcett Road, Southsea in 1953 we see five paper delivery boys. From left to right we have Eric, Trevor, Morris, David and David. Sent in by Anne Stockham she thinks that Eric's surname was Lenton.
The Cigar Box, Fawcett Road, Southsea
Martin Wills shoe shop in Fawcett Road, Southsea which was destroyed in the blitz of January 10, 1941. (Colin Wills collection)
The Cigar Box, Fawcett Road, Southsea, a lady who worked there
When throat tablets were made on site. Postlethwaite's chemist at 131, Fawcett Road, Southsea. Picture: Barry Cox collection
The Cigar Box, Fawcett Road, Southsea a lady who worked there