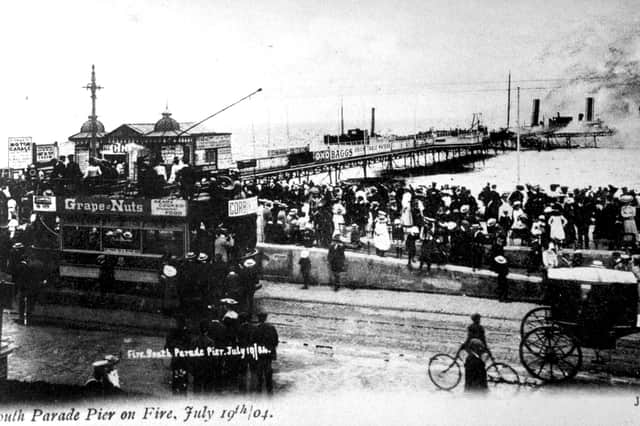 South Parade Pier on fire, July 19, 1904. Picture: The News PP4143
It was destroyed by fire in 1904 and rebuilt in 1908 on cast iron supports.
Fire again struck the pier in 1974 during the filming of the Ken Russell film Tommy.
To see the full collection of our pictures, all 24 of them showing both South Parade and Clarence piers, click here.
Southsea firefighters put out the flaming pier on June 11, 1974. Picture: The News PP4153
A message from the editor, Mark Waldron. You can subscribe here for unlimited access to Portsmouth news online – as well as fewer adverts, access to our digital edition and mobile app. Our trial offer starts at just £2 a month for the first two months.
The new South Parade Pier being built in May 1908.
A band gives a deck concert on South Parade Pier with a ferry at the end of it. Picture: Courtesy of Portsmouth City Council
Pier Mansions is in the background of this unusual shot of roller-skating Edwardians on South Parade Pier. The picture is dated 1909. Picture: costen.co.uk