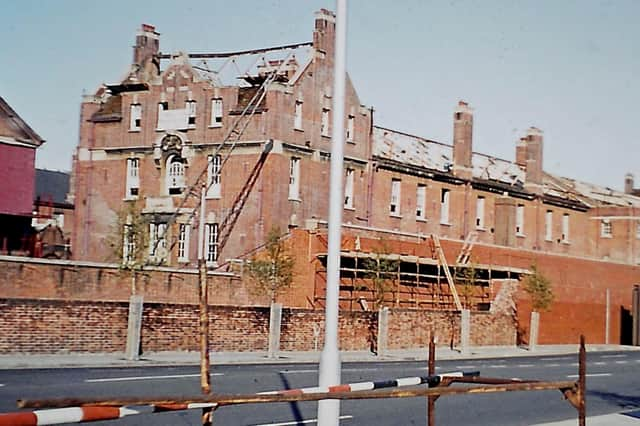 Buildings from the original 1906 RN Barracks, looking from Unicorn Road, being demolished. Part of the new Unicorn Gate can be seen on the far right.
In the picture on the right we see the road some time after the market was done away with so a new Unicorn Gate could be brought farther south down the road for security reasons.
Before the new gate the entrance through Unicorn Gate was open to the public and Flathouse Road from Cumberland Street, Portsea to Flathouse Quay running across the front of the gate was a public access road.
This all came to an end in 1976 when the new gate was built.
Two Unicorn Road market traders with their horse.
Today's gate is far larger and much stronger than the 1976 version as can be seen today.
In the photograph we can see part of the original Royal Navy barracks, built in 1906, being demolished.
In the front newly planted trees can be seen along the kerb of the new pavement. Behind them we can see the former dockyard branch railway line wall.
The market had to go to make way for the new Unicorn Gate entrance to the naval base. Picture: Richard Boryer collection
No doubt when this notice was posted it caused some consternation to the traders of Unicorn Road. There is no mention of them moving to another site.
To the right of Unicorn Road were the former streets that surrounded Conway Street which was struck by a massive bomb or exploding aircraft on the evening of December 23, 1940. The many streets surrounding it were also destroyed with the loss of at least 15 lives. Most of the flattened streets could be seen for many years.
When Unicorn Road was taken by the Admiralty, the Conway Street area was also taken and used as a lorry park for navy vehicles.
No explanation has ever been given for the massive Conway Street explosion. It is thought a Luftwaffe bomber had a massive bomb on board to drop within the dockyard. That plane was either shot down, crashed or dropped the bomb short of its target.
Whatever the reason the enormous explosion caused tremendous, shocking devastation to the area and was a warning of what was to come in the following years of the Second World War.
I know it was 80 years ago but if anyone has further information about this event, please let me know.
Looking south down Unicorn Road are two traders with their horse. Does anyone recognise either of these gentlemen?
Above the horse is a shelter. This was the covered platform of the dockyard branch line. This halt was used to load troop trains with sailors being drafted to departing ships from ports other than Portsmouth.