Leigh Park hitchhiking girl who vanishes before your eyes | Nostalgia
In Penny Legg's book Folklore Hampshire, she tells of a strange event that occurred along Hulbert Road, which runs between Bedhampton and Waterlooville.
Tuesday, 7th April 2020, 8:11 am
Updated
Tuesday, 7th April 2020, 8:13 am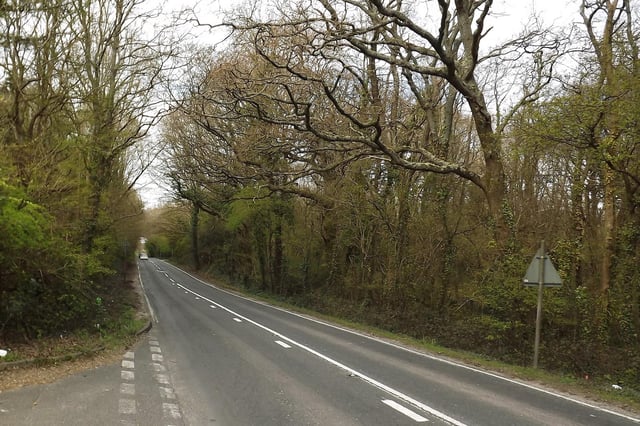 Hulbert Road between the Purbrook Way roundabout and the A3(M). Is this where the girl appeared? Picture: Bob Hind.
At night the road is very dark and narrow and before the A3(M) was built it was quite twisty for the last mile into Waterlooville
Penny tells us that a young girl is supposed to have appeared suddenly in front of a car one foggy night in 1976.
The couple in the car braced themselves waiting for the car to hit the girl but nothing happened. The girl had disappeared.
A rare occasion: Three Portsmouth-based aircraft carriers, all now scrapped, in their home port in 1989. Picture: Gerrard O'Brian postcard collection.
The couple told their friends of the incident and they were told there had been several sightings at the same spot.
It appears a young girl had been hitchhiking from Waterlooville to Leigh Park when she was struck by a car and killed.
Another report came from a man who was again driving down the road in pouring rain and was giving a girl a lift to Leigh Park. When he stopped the car the girl, who had been sitting in the front, had disappeared but a wet stain on the seat showed she had been there.
If any of these people who gave the girl a lift could contact me I would like to talk to you, especially about what the girl looked like.
The Earl of Jutland arrives in Portsmouth to open Navy Week 1933. Picture: The News archive.
Penny Legg's book contains many strange happenings in this area including Portchester Castle, Hayling Island and Portsmouth Dockyard plus many more. It's published by the History Press.
•We are now used to seeing the two new aircraft carriers alongside in the naval base but back in February 1989 we had three pictured together. There are no sailors lined up on the deck of Ark Royal so she might have been being manoeuvred before departing the base. Nice to see HMS Victory as she should be, fully masted and rigged.
All three carriers are long gone. Invincible was scrapped in Turkey in June 2011 and Ark Royal was scrapped in Turkey in June 2013. HMS Illustrious suffered the same fate after several bids to buy her failed. She left Portsmouth under tow on December 7, 2016, again, bound for Turkey for breaking.
• Some of you might remember Navy Week in what was then Portsmouth Dockyard. Before the Second World War, the week was spectacular with dozens of ships available to visit.
In 1933 the official opening ceremony was performed by Admiral of the Fleet, Earl Rushworth Jellico who commanded the Grand Fleet at the Battle of Jutland.
That year, Navy Week was held in the first week of August. It attracted 127,083 visitors producing £6,643 for naval charities. One of the many foreign visitors to Portsmouth was the Emir of Katsima, northern Nigeria.