Portsmouth: Could you name all the old barracks in the city? | Nostalgia
Although Portsmouth's chief claim to fame is as the home of the Royal Navy it was also, for several centuries, a great army garrison with more than half a dozen barracks.
Friday, 27th March 2020, 7:40 pm
Updated
Friday, 27th March 2020, 7:41 pm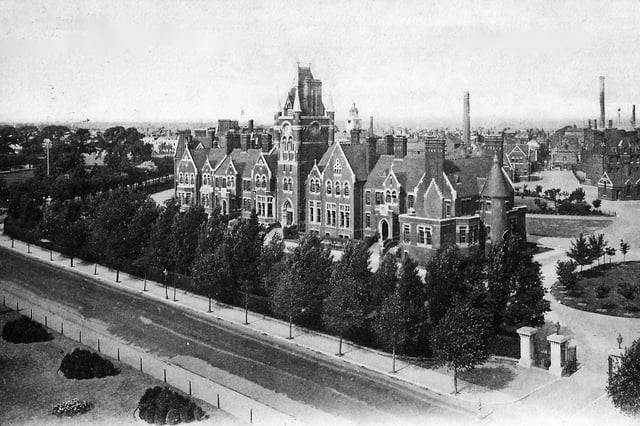 Victoria Barracks, Portsmouth, now a private housing estate. Picture: Bob Hind postcard collection.
Colewart Barracks was not only the oldest barracks in Portsmouth but also in the entire country. Located in Old Portsmouth, it was also called St Mary's Barracks. Builtin 1680 as a hospital for sick and wounded soldiers they were converted into an ordinary barracks about 1694.
In 1860 Parliament sanctioned the abolition of the public right of way through the barrack grounds as it was no longer necessary and was used by 'certain women not conducive to discipline'.
During the First World War the barracks was used by the Army Service Corps but by 1920 the barracks had fallen into disrepair and demolished to make way for a power station expansion.
Fourhouse Barracks were built in St Nicholas Street, Old Portsmouth, about 1760. The barracks could hold 1,000 men and officers comfortably.
An amusing aside was that the doors were so low it caused some amusement when the men, wearing enormous cocked hats, had to bow to emerge.
The Royal Marine Barracks were built in 1723 near Fourhouse Barracks. Located in what was then Pennie Street (now Penny Street) in 1823, some nearby buildings were demolished and a new building for the Marine Artillery built.
The barracks were demolished in the 1880s and new barracks built for the Royal Artillery called Victoria Barracks.
Anglesea Barracks stood where HMS Nelson is now. They were built opposite in Lion Terrace.They were approached by a road immediately after you passed through Lion Gate at the entrance to Queen Street. The barracks were transferred to the Admiralty in 1898 and the modern naval barracks built and opened in 1906.
Cambridge Barracks were formerly a timber workshop and timber yard in Penny Street, Old Portsmouth. Purchased by the Government's commissariat offices they were built in 1825.
After the First World War part of the barracks was converted into Portsmouth Grammar School in 1926.
Sappers and Miners, as engineers were then called, had a barracks located behind the corner of what is now Commercial Road and Edinburgh Road, Landport. Not a lot is known about the building. In 1834 the barracks were sold by the Board of Ordnance for £1,250.
Victoria Barracks was built in 1880 with work done mainly by convicts who at the time were housed in a prison in Portsea. They took great pride in their work. One prisoner requested to remain on site after his sentence to finish carving the apex at the end of each building. The buildings were demolished in the late 1960s and the area is now a private estate.
• The photograph of Olives, on the corner of Lake Road and Drummond Road, has caused great interest.
Brian Jenkins tells me that at 86, Lake Road was the Working Men's Liberal Club (E Ayton, Sec). Across the road at 88 was Claydon, confectioner, and at 88a was City Cleaners & General Cleaners.
At 90 was William Jarvis.
Neil Complay says: 'The shop you showed in Friday's News was a general store and belonged to a Mr Robinson, known as Robbie. I met him through his grandson Graham Clifford when we served our apprenticeships together.
Mr Robinson had more than the one shop and he sold just about everything – from kindling which his grandson chopped up – to ice lollies that he made. I even saw him split a bag of dried peas for a customer once because she couldn't afford a whole one.'
Pete Cross tells me the former Liberal Club is now the Royal Naval Old Comrades Club.
Dave Quinton says: 'I have my 1934/5 Kelly's here and presuming Lake Rd runs left-right across the photo, it says that on the left corner, 88 (with Drummond Road) was a confectioners (Edward Talbot) then on the right corner is 86 Portsmouth Working Men's Liberal Union Hall Ltd (E Ayton sec) Drummond Hall.
A reader called Clare says she has been squinting at the photo of Olive's, trying to make out the word to the right of Olive's. She thinks it says 'fishmonger'. Thank you all.
• Mr J Smith, of West Leigh, Havant, tells me he was born in a maternity hospital in Trafalgar Place, Fratton which closed in 1938.
Mr Smith has always wondered why The Hard is so-called. I am sure it was because it was made into a solid hard surface above the tidal line when Portsea was developed many years ago. The same could be said for Hardway at Gosport. Anyone know any differently?