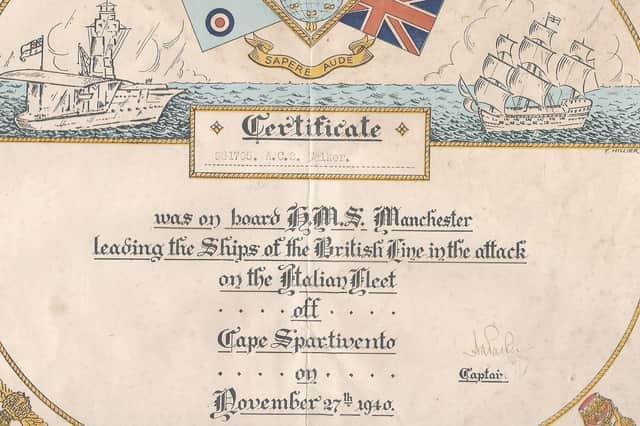 The certificate awarded to non-naval servicemen on board HMS Manchester during battle. Picture: Daphne Smith collection
On November 25, Manchester met HM Ships Renown, Ark Royal and Sheffield and assorted destroyers from Force H off Gibraltar to cover a passage across the Med to Malta. On board were army and RAF personnel.
On November 27, there was a long-range engagement with two Italian battleships along with six cruisers with destroyer escorts.
The engagement was later called the Battle of Spartivento in which the Italian ships, overcome by the gunnery of the British ships, escaped.
Ernest Walker. Picture: Daphne Smith collection
Vice-Admiral Sir James Somerville was later brought to book about why he did not give chase. He told a board of inquiry safeguarding the convoy was surely more important. The inquiry agreed.
All those non-naval army and RAF personnel who were on board Manchester were later awarded a certificate by the captain and ship's company. One was AC2 Ernest William Walker from Bordon.
His daughter Daphne Smith dropped me a line about her father's exploits.
Ernest, known as Bill, was born on August 8, 1922, but gave his birth year as 1921 so he could join up. Daphne also believes someone stood in for Bill at a medical as the weight and height did not match to Bill's build.
An air mail letter addressed to Ernest while he was a prisoner of war. Picture: Daphne Smith collection
Joining the RAF as mechanic he became a LAC (leading aircraftman). He was taken prisoner by the Italians which was ironic as his grandfather was Italian.
Later still he became a German prisoner of war and sent to Stalag IV B. Bill made several escape attempts but was recaptured each time.
Because of his continuous attempts to escape he was sent to the infamous Stalag III camp in early 1944. This places Bill in the camp at the time of the Great Escape on the night of March 24, 1944, in which 50 RAF escapees were murdered by the Gestapo on Hitler's orders. (In all, 220 prisoners were due to make the escape).
Daphne believes her father was helping dig one of the three tunnels when the one Bill was digging collapsed. Perhaps not being among the other group who did make their escape was Bill's great escape.
HMS Manchester was scuttled off Tunisia on August 13, 1942.
Ernest died in East Wittering, West Sussex on September 24, 2000.
Among her father's possessions is the certificate presented to him by the captain of HMS Manchester. There is also an envelope addressed to Bill when he was in Stalag III. Can anyone tell me how mail was delivered to Germany during the war?
A message from the editor, Mark Waldron.