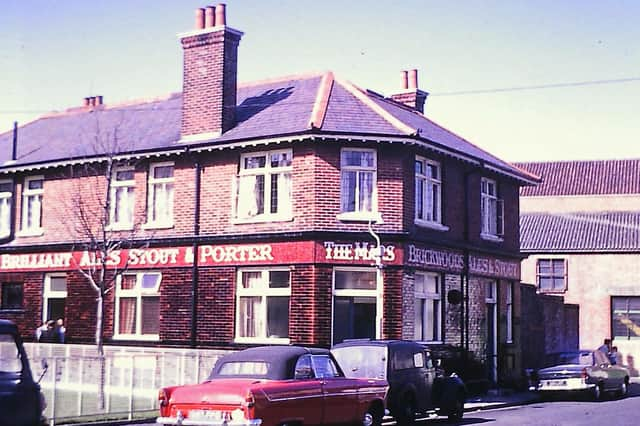 The Mars pub, Temple Street, Landport, with some, what would now be, vintage cars. Picture: Burbridge/Richard Boryer collection
Ian Heath has given me the following information and I am sure many of you vintage car enthusiasts will enjoy reading what he has to say.
He says: 'Quite a colour photograph of how I remember The Mars.
'I'm not sure about the sports car, but it is an MG. I think it is either an MGB or an MG Midget, but I expect someone will know the definitive answer. I am puzzled by the chrome trim. On MGs it is usually straight from bonnet to boot.'
The sailor who appeared here on June 2 was John Francis from Gosport. Picture: Graham Francis
Ian adds: 'The van is a Morris Z, a derivative from the Morris 8 car. I think they stopped making them in the mid-1950s.
'The Post Office used them and I seem to remember them when I was a child, or perhaps memory plays tricks.
'The final car is, I think, either a Ford Mk III Zephyr or Zodiac, built from the early '60s. I'm afraid I can't tell which is which. The van is, I think, a Commer FC, produced in the 1960s.'
•I published the photograph of the sailor last Tuesday as I thought it might have been one who served in one of the royal yachts because of his uniform.
This battery was located west of Southsea Castle where the bandstand is today. Picture: Henry Yelf
I had an e-mail from Graham Francis who told me the sailor was Stoker First Class John Francis who hailed from Gosport. He joined the navy on December 20, 1898 aged 18. Until then he had been a labourer.
The ships he served in included the Duke of Wellington, Resolution, Juno Pembroke and Victory.
In March 1906 John was discharged as an invalid because of vertigo but he rejoined the service on February 24, 1907, and should have served until February 23, 1917.
Unfortunately John did not see his time out as he was lost when HMS Good Hope was sunk in action off the Chilean coast on November 1, 1914. He was 31 and left a wife, Mrs A Francis of 5, Shaftesbury Road, Gosport. He is remembered on Portsmouth Naval Memorial.
• The final photograph, of the gun battery at Southsea, was sent by Henry Yelf, who admits he does not know the copyright. The massive gun was located where the bandstand is today. Out of the picture at the top would be Southsea Castle.
These seafront gun emplacements acted more as a deterrent. At the time they were installed the threat of French invasion was considered very real, hence the forts along Portsdown Hill and in the Solent.
I can't believe this gun was ever fired in anger as the danger of invasion at the turn of the last century had passed. More information please.