Three more aircraft carriers tied up in Portsmouth | Nostalgia
Terry Pearson, a former senior partner of Pearson-Dart Advertising, tells me the photograph of the three aircraft carriers I published on Monday should have been credited to that company. It was taken from the Bristow search and rescue helicopter.
Tuesday, 7th April 2020, 3:40 pm
Updated
Tuesday, 7th April 2020, 3:41 pm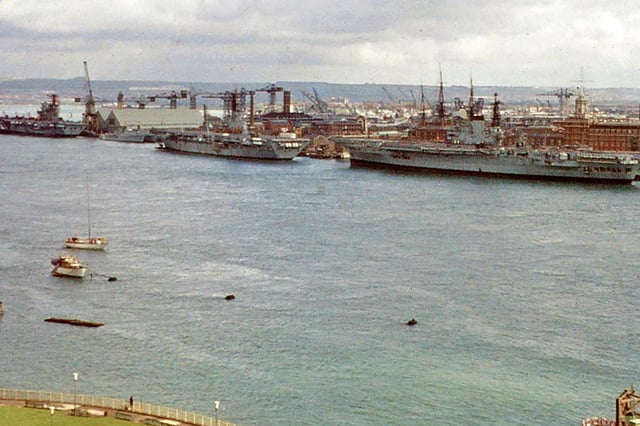 Three more carriers... HM Ships Hermes, Albion and Victorious alongside in Portsmouth Dockyard in the 1960s. Picture: Graham Stevens.
Today we see a further three carriers but this time in the mid-1960s and taken by Graham Stevens.
From left to right we have HM Ships Hermes, Albion and Victorious. As can be seen, at that time there were still cranes behind Albion once used when the dockyard was a shipbuilding establishment.
As we know, Victorious took part in the hunt for the German battleship Bismark in 1941. In 1942 she was loaned to the United States Navy to assist in the war against Japan.
Passing Point in 1989 is the American battleship USS Iowa. Picture: Graham Stevens.
She was reconstructed above the hanger deck in the mid-1950s and fitted with an angled flight deck. She was decommissioned in 1969.
Below is USS Iowa arriving in Portsmouth in July 1989. The queues to visit this ship were enormous.
She was originally fitted with nine 16in guns with a secondary armament of 20 five-inch guns.
She is now a museum ship in Los Angeles.