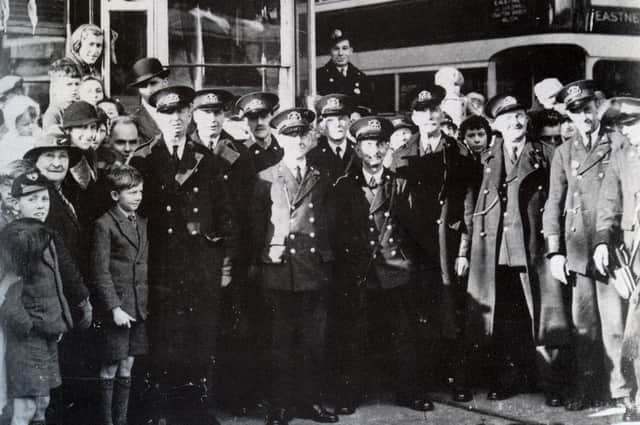 The last tram to run in Portsmouth in 1936 arriving at Eastney depot with the crews and spectators gathered around.
Another dip into The News archive, this time showing Pompey citizens in relaxed mode whether they were up for the cup, off with the trams or on board Victory, keeping her ship shape.
Customers outside the Eastney Cellars ready to board their coach to see Pompey win the FA Cup at the third attempt in 1939.
HMS Victory's restoration gang, 1956. Some of the surnames were: Prior, Howells, Greenwood, Smith G, Rope, Tate, Watts, Martin, Smith B, Sykes, Paice, Pounds, Cook, Reg, Lardy Charlie, Ken; Tom Dick.
A party for employees of the Smith's Crisp factory in Portsmouth.
Sent in by George Tucker of Bedhampton, this is a wonderful photograph of the children who lived in the tight community of Landport in 1937. George is fifth from the left, front row, and his sister Audrey third right, second row. Other names George remembered were Kenny Finch, Iris Grooms and Bella Jenkins.