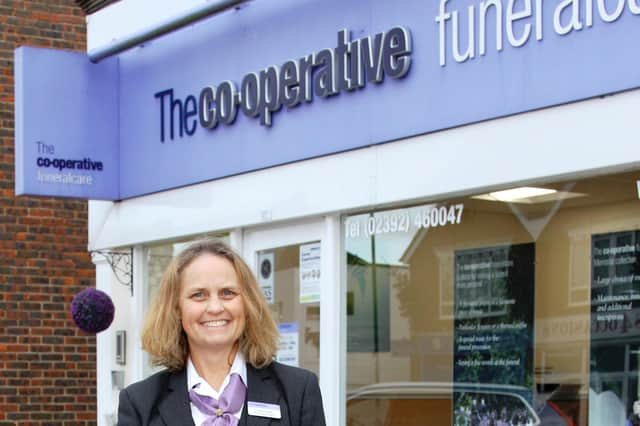 Hayley Wallage, a Funeral Co-ordinator based in the Hayling Island branch of The Co-operative Funeralcare
There's a lot to take in and it can seem overwhelming when it comes to organising the funeral.
Southern Co-op, which owns the majority of The Co-operative Funeralcare branches in Portsmouth, has been in the local community for almost 150 years and its colleagues are here to support families who have had a bereavement.
The Co-operative Funeralcare colleagues have the experience and expertise when the worst happens and are here to offer advice on what you need to do.
The Co-operative Funeralcare
One of the most important first steps is to register the death, which must be done within five days. It is advised to go to the registration office in the area in which the person died, as you will receive the documents you need on the day.
For example, if they passed away in Portsmouth, the death should be registered at the Portsmouth Register Office at Milldam House, Burnaby Road. If you use a different register office, it will take longer to get the documents, which could delay the funeral arrangements.
Come in for a chat and a cuppa
Hayley Wallage is a Funeral Co-ordinator based in the Hayling Island branch of The Co-operative Funeralcare. She says friends or family of the deceased usually call up or pop in to the branch and she will always put the kettle on and invite them into a more private room for a chat.
'Very often it's simply about talking,' she says.
'They want to tell you what's happened and they want to know what to do next. It's nice to have that chat. It enables me to get to know them and their loved one.
'It's such a difficult time for them but when we have that chat we can show them we understand and it relaxes them a little bit, which is so much nicer.'
After that, another appointment is made for clients to come back to discuss the arrangements. Hayley adds: 'We try to make it as painless for them as possible. When we talk in more detail about how they want the funeral service to go, we can break it down for them as much as they need.
'We talk about the different things that they can have and sometimes they will go away and think about it. For example, do they want their loved one to be in their own clothes? Do they want the curtain to close at the end of the service if it's a cremation?
'They don't have to decide there and then, they can go away and discuss it with their family if they prefer.
'There's an awful lot to do when you have lost somebody and you're at your most vulnerable time. That's what we are here for - to help.'
Funeralcare colleagues will find a date for the funeral by calling either the church or the crematorium to find a slot and ensure there's a hearse and that pallbearers are available. Discussions also take place about any dates that should be avoided such as holidays or special birthdays.
A letter will then be sent home with an estimate of the cost and a breakdown of the figures for the funeral.
All Southern Co-op funeral homes have a private reflection room, providing a calm and tranquil setting where people are invited to spend as much time as they wish with their lost loved one.
Once the funeral arrangements are in place, people can visit the reflection room as often as they want to.
'It's not an easy thing to do and it's not for everyone,' says Hayley.
'Some people feel it's not right for them. But those that do are often surprised at how peaceful their loved one is. People regularly tell how it makes them feel better to see their loved one at rest.'
Once a death has been registered and friends or family have had an initial chat with their local The Co-operative Funeralcare branch, the rest will be explained. There is no need to make a long list beforehand which could add to pressure of an already painful situation.
Colleagues at The Co-operative Funeralcare have many years of experience in how they can lighten the load and there is someone available on the phone at any time of the day or night.