Absurd Bird, Southsea | Takeaway review
Lockdown has undeniably changed habits for a lot of us. And the same can be said for the way in which Dish Detective has been finding new dishes to try.
Wednesday, 14th April 2021, 3:41 pm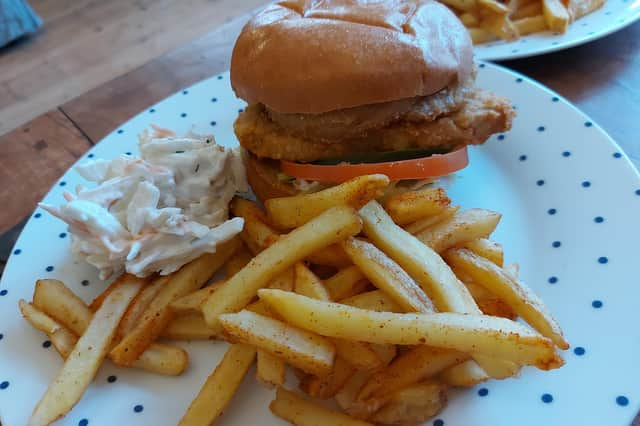 One of the vegan burgers with garlic fries and coleslaw
Gone (temporarily) were the days of mooching along Southsea foodie hotspots like Albert Road or Osborne Road looking for previously undiscovered eateries.
So in the last week before restaurants and pubs re-opened – hopefully for good – a habit of trawling through various food delivery apps reared its head once more.
This week it was the turn of Uber Eats which was quick to display the details of somewhere Dish Detective had not heard before – Absurd Vird.
Absurd Bird takeaway packaging.
No, that's not a spelling mistake – but in fact the all-vegan version of a fried chicken takeaway called Absurd Bird.
I have to admit I am instantly drawn to the menu as the pictures show towering burgers that look to be filled with crispy burgers, salad and onion rings – as well as plenty of mouth-watering sides.
Curious that it has an entirely separate branding for its vegan menu, my companion and I unanimously agree to order from them. There are four different vegan chicken burgers to choose from – including a standard vegan fillet burger and a buffalo vegan burger. However, we are taken by the exciting sounding vegan Korean BBQ burger (£9.94) and the vegan Nashville hot burger (for the same price).
In the images on the app both burgers are piled high with a vegan fillet, onion rings, salad and sauce – leaving us excited for our order. We also decide to share a portion of the garlic dry-rub fries (£3.50) and vegan coleslaw (£3.55).
As with most delivery apps we are given an estimated time – and it arrives within that time still piping hot and smelling delicious through the packaging.
Since my friend and I couldn't decide which burger we would prefer we decide to cut them in half so we can try both.
When we put them on our plates we realise that the burgers are significantly smaller than the pictures had made them out to be on the app.
The Korean BBQ burger was advertised as coming with sticky Korean BBQ sauce, kimchi, pickled cucumber, crispy onion rings, sesame and vegan sriracha mayo. I was quite disappointed as I struggled to taste all the flavours mentioned and on picking the burger apart I couldn't find all the components listed.
The onion rings are there but they are a little soggy rather than crispy. The vegan fillet is definitely tasty though, I believe it would satisfy meat eaters. I just can't help but feel this burger needs a bit more of a kick to it.
We agree the Nashville hot burger tastes fairly similar to the Korean version, just with more spice. On taste alone my companion is not actually sure which burger is which. The Nashville is listed as containing extreme hot sauce, salad, vegan sriracha mayo, pickled cucumber and crispy onions.
There is the option to add vegan cheese, jalapenos or more sriracha mayo for an additional £1. Maybe adding one of these would have given the burgers more flavour.
But the portions are definitely not small and we are impressed with the size of the fries. And the garlic rub and vegan coleslaw is definitely tasty. Although slightly disappointed by the burgers, we are definitely full up by the end of our meals.
If you do eat meat, Dish Detective would recommend giving the Absurd Bird menu a try instead.
The other intriguing thing about this takeaway is the apparent lack of a premises in Portsmouth. On Uber Eats, Absurd Bird and Absurd Vird are listed in Pembroke Road, Southsea/Old Portsmouth. However, a walk along the road and a Google search yielded no such results. Absurd Bird does have restaurants in other cities in the country though, so maybe we need to watch this space.