Becketts, Southsea | Restaurant review
The last time Dish Detective reviewed Becketts, Southsea, in September 2019, we recorded that we 'weren't blown away' by the culinary experience.
Wednesday, 14th October 2020, 5:17 pm
Updated
Wednesday, 14th October 2020, 5:18 pm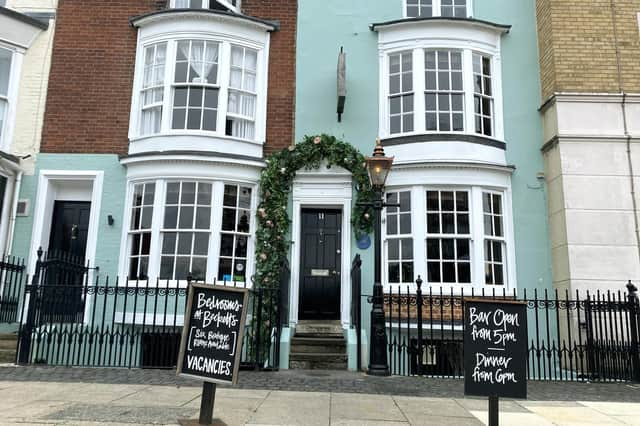 Becketts at Bellevue Terrace, Southsea.
Well, a lot can change in a year.
In 12 months, the Bellevue Terrace establishment has undergone a £40,000 kitchen refurbishment and redesigned its entire menu.
Like all restaurants, it has also had to change its way of working thanks to Covid-19 – giving Dish Detective a chance to revisit old haunts from a new hygiene and Covid-secure perspective.
The flat-iron steaks, served with chips, kale, roasted shallots, pickled garlic, plum tomato and herb oil.
On arrival, my companion and I are greeted by a cheery face-masked waiter who took our temperature. I knew about such a precaution by reading Becketts' Covid-19 guidelines – which are thankfully heavily-detailed on its website – and include how it has amended shift patterns for staff; socially-distanced tables; reduced the menu so staff can work in a Covid-secure way and now routinely conducts staff-wellness checks. If staff show symptoms or customers have a temperature, they are sent home. Therefore, I oddly relaxed when the waiter pointed the temperature gun at my head and I was given the all clear.
We were shown to our table and handed a QR code on a piece of card instead of menus. It's easy enough – simply hover your phone camera over the code and up springs the menu. The waiter returns and we order a mojito (£8.95) and a pint of Peroni (£5.95).
To start, I order the wild mushroom truffle mac and cheese (£5.95), which was listed under sides. My companion opted for salt and peppered squid (£8.45), which came with lime, crushed peanuts, spring onions, and coconut cream.
We order two flat-iron steaks – one medium and one medium-rare – served with chips, kale, roasted shallots, pickled garlic, plum tomato and herb oil (£17.50 each) with two peppercorn sauces (£3.50 each) for the main course.
The wild mushroom truffle mac and cheese at Becketts.
It's not long before we're devouring our starters. The mac and cheese is to die for – and I am trying not to be dramatic. It was so creamy, velvety with truffle oil oozing through, easily taking the podium of the best mac and cheese I have ever had.
My companion quickly got through their salt and pepper squid and said it was delicious. However after a spoonful of my mac and cheese, it just couldn't compare.
Swiftly after our empty starter plates were taken away, our table was cleaned and relaid before our steaks arrived.
Again, I could not fault my medium melt-in-the-mouth steak and nor could my companion. It was incredible. The amount of peppercorn sauce was just right, with plenty to mop up the chips. The green herb oil complemented the steak beautifully.
And with that, we were stuffed. After a couple more alcoholic beverages, we were on our merry way home.
It's safe to say that a dinner at Becketts definitely does blow you away – and you won't regret it.