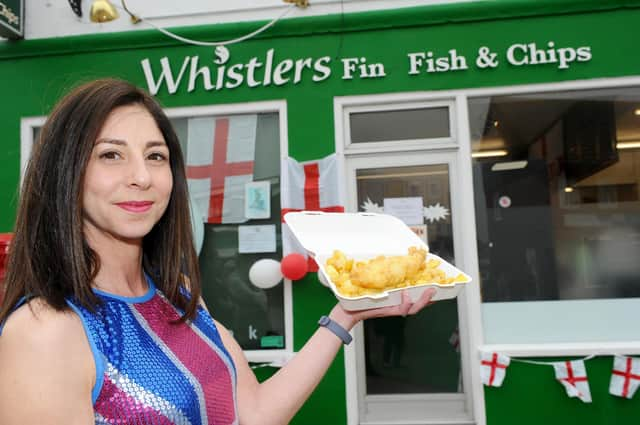 Rana Denholm, co-owner of Whistler's Fish and Chip shop. Picture: Sarah Standing
Whistler's Fish and Chips, which has branches in Westbourne and Hayling Island is promising to donate £500 cash to a charity or cause close to the winning participant's heart.
In a grand tradition of the business holding St George's Day charity events, the Whistler's Eat Off will see two individuals representing charities local to Westbourne or Hayling Island go head to head at the table on Friday, April 23.
Participants will complete the challenge outside, eating a very large 32oz serving of cod with approximately 30oz of chips, bread and butter, and mushy peas in the quickest time possible.
Rana Denholm, joint owner of Whistler's, said: 'We are looking for big eaters with big hearts to complete our eat off challenge.
'Our only criteria is that they raise money for a charity or cause that is local to each shop, so we can support those who have supported us.'
The winner will get £500 cash donated to their chosen local cause.
Whistler's Eat Off will take place at the Westbourne shop on The Grove from 5.30pm, and at the Hayling Island eatery on Station Road from 7.30pm.
To keep the event Covid-safe, the challenge will be livestreamed on Facebook so friends and supporters can cheer the eaters along as they tackle the meal.