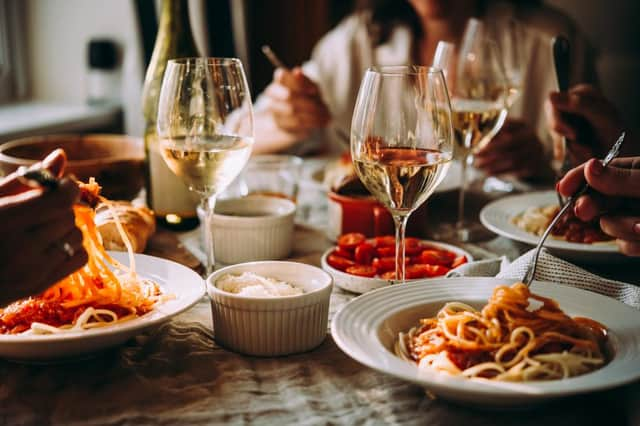 Is your favourite restaurant offering a discount in August? (Photo: Shutterstock)
The Eat Out to Help Out scheme allows diners across the UK to claim 50 per cent off their bill at restaurants registered with the scheme.
These are some of the restaurants taking part in the scheme in Portsmouth - and how you can use the postcode checker to check if restaurants in your local area are taking part in the discount.
Which restaurants in Portsmouth are registered?
Portsmouth has a huge range of amazing restaurants to visit, so knowing where to start can be tricky.
These are just some of the restaurants that are offering a 50 per cent discount during August as part of the Eat Out to Help Out scheme.
16 Edinburgh Rd, Portsmouth, PO1 1DE
The inspiration for Noodels came from a Chinese noodle bar based in New York, near the Brooklyn Bridge, and was the first place in Portsmouth to offer Chinese style noodles and bubble tea.
A TripAdvisor reviewer wrote, "If I could leave an 11/10 for this place I would. Cannot fault this place, their noodle choice is varied and all mouth wateringly delicious."
16 Guildhall Walk, Portsmouth, PO1 2DD
7Bone Burger Co serves up classic American comfort food, like their dry aged steak burger, hot dogs and dirty fries, as well as offering up a vegan menu as well with items like vegan "chkn" burgers and kung fu fries.
A TripAdvisor reviewer wrote, "The food is incredible without a doubt. The staff are amazing friendly and great with children. If you haven't visited yet you won't be upset."
104 St Pauls Road, Southsea, Portsmouth, PO5 4AQ
Leilamezze offers up authentic Lebanese food, with recipes dating back at least three generations - on the menu is a range of meat, vegetarian and vegan options to choose from.
Leilamezze is also a TripAdvisor Travellers' Choice 2020 winner.
A TripAdvisor reviewer wrote, "Great food, tasty and fresh. Lots of choices and timely service. Warm welcome and lovely hosting. Will be returning!"
9 Charter House, Lord Montgomery Way, Portsmouth, PO1 2SB
Portsmouth's oldest independent sandwich shop, Andre's Food Bar is known for its award winning sandwiches. Freshly made to go, you can choose from the likes of baguettes, paninis, jacket potatoes, soups and more.
A TripAdvisor reviewer wrote, "The food is always top notch and the staff are super friendly and helpful! My favourite is the chilli chicken or the garlic chicken filling! A definite must if you're in need for somewhere for warm food for lunch!"
1 Landport Terrace, Portsmouth, PO1 2RG
Viet Quan serves up authentic Vietnamese food and is a family run restaurant, with husband and wife taking charge of the kitchen and the rest of the family managing the front of the house. Their pho (a type of noodle soup) is a must have, as the stock used is made over ten hours.
A TripAdvisor reviewer wrote, "Just delicious. The pho exceptional. A lovely welcoming restaurant. Well worth a visit and very reasonably priced."
11 Bellevue Terrace, Southsea, Portsmouth, PO5 3AT
Becketts serves up a variety of British-inspired dishes, using locally sourced seasonal ingredients wherever possible, catering to vegetarian and vegan diners as well as meat eaters. The Becketts website claims that their Sunday roast is "legendary".
A TripAdvisor reviewer wrote, "That lovely feeling when you have the perfect experience in a restaurant… The food and drink were delicious, the staff were attentive without being overbearing, the decor was eclectic and ambiance just right."
1 Gunwharf Quays, Portsmouth, PO1 3FR
Brasserie Blanc bases its menus on seasonality and the freshest ingredients, boasting amazing new dishes for diners to try out in August. Check out dishes such as the duck leg confit with citrus sauce, the whole dressed brixham crab and free range cornish beef burger.
A TripAdvisor reviewer wrote, "Whenever I visit Portsmouth this is my first choice restaurant. Great wine and fabulous food. I had the fish cake which was simply one of the best meals I have eaten."
7 Albert Road, Southsea, Portsmouth, PO5 1NJ
On the menu at Sakura is a selection of Japanese dishes, including raw fish sashimi, sushi and ramen, with a selection of dishes available for vegetarian customers. Sakura was established in 2009 as the first Japanese restaurant in Portsmouth.
A TripAdvisor reviewer wrote, "Our go-to favourites at Sakura are the southsea maki, katsu curry, veggie tempura, crab hand roll, prawn maki and caterpillar maki. The portion sizes are generous and the service is always quick and friendly."
108 Palmerston Road, Southsea, Portsmouth, PO5 3PT
Sopranos is an award winning Italian restaurant in Portsmouth, established for over 20 years and serving up a range of dishes you'd expect from a traditional Italian restaurant, like pizza, pasta, risotto, seafood, salads and more.
A TripAdvisor reviewer wrote, "Varied and authentic menu. Portions are generous and food delicious. Great friendly service and price very reasonable. A real treat and a great place to catch up after lockdown."
12 Clarendon Road, Southsea, Portsmouth, PO5 2EE
Santa Yago is a tapas restaurant and bar - the website recommends you try out the sweet potato stack, mushroom bruschetta and the sea bass. The dishes are meant to represent flavours from across Europe and fresh produce is highlighted in the menu.
A TripAdvisor reviewer wrote, "This restaurant serves the best tapas I have ever experienced. Excellent service, very good quality food, generous portions and reasonably priced. Will definitely visit again."
How to use the postcode checker?
On the government website, you'll find a dedicated page for finding restaurants in your area that have registered for the Eat Out to Help Out scheme.
All you have to do is type in your postcode, and the website will automatically find restaurants that are within a five mile radius that are part of the discount.
Be aware that the search results may not include participating restaurants in larger chains - you can check and see which chains have registered as part of the scheme on a separate page on the government website here.
This page includes an alphabetical list of chain restaurants and large businesses that are registered.
How does the scheme work?
The Eat Out to Help Out scheme opened on 3 August 2020, and it allows customers to get a 50 per cent off discount on food or non alcoholic drinks, with a maximum of a £10 discount per diner.
You can claim this discount every Monday, Tuesday and Wednesday between 3 and 31 August as many times as you like.
You do not need a voucher, there is no minimum spend and you can use it in conjunction with other offers and discounts.
However, you cannot claim the discount on alcoholic beverages or service charges.