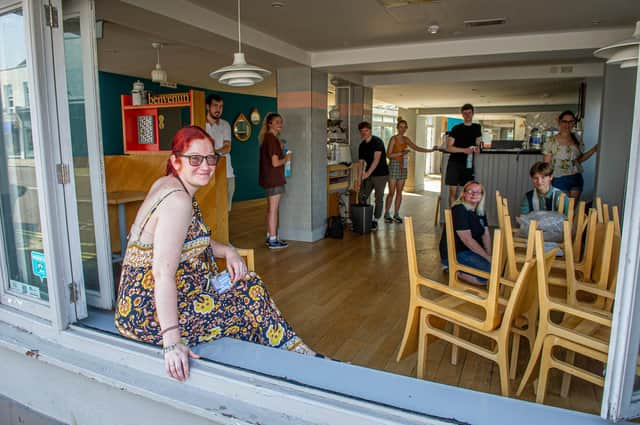 Sara Pollard-Dambach is opening a new restaurant, McDambis, formally Ask Pizza, Fareham Pictured: Sara Pollard-Dambac at McDambis with her staff on 21 July 2021 Picture: Habibur Rahman
The former Ask Pizza premises in West Street has been empty for months, after it closed during the first lockdown and never reopened.
However, Sara Pollard-Dambach and her partner Oliver have taken on the town centre building and are busy putting their stamp on it before opening next month.
Until recently Sara and Oli were running the Roebuck pub in Wickham, but they decided to call time on their pub career and have instead moved on to their new restaurant venture.
Sara Pollard-Dambach is opening a new restaurant, McDambis, formally Ask Pizza, Fareham Pictured: Sara Pollard-Dambach at McDambis with her staff on 21 July 2021 Picture: Habibur Rahman at McDambis with her staff on 21 July 2021 Picture: Habibur Rahman
Sara, from Swanmore, said: 'The new restaurant will have English, Swiss and Italian food on the menu as it made sense to make use of the wonderful pizza ovens that have been left behind.
'We have brought the whole team from the Roebuck, all 20 of us will be working there.
'When we had to leave the Roebuck we were very sad and I started to look at what premises were available. After getting in touch with the landlord here and seeing what a beautiful building it is and what potential it has, we couldn't wait to move in.
'The landlord is pleased to have some new tenants, but he is also pleased that we will be carrying on the charity work and the community work that we were previously doing. It is exciting.'
The couple plan to open a restaurant called McDambi's of Fareham – and they hope the venue will become a community hub, with Sarah continuing her work for domestic abuse charities and food banks.
The restaurant, which has 90 seats inside and a small courtyard area to the back, is currently undergoing a renovation.
Sara said: 'When the pandemic began, the staff at Ask just locked up as if they were coming back the next day. There were plates in the dishwasher, pots in the sink, everything was still as they had left it.
'We have to do a lot of cleaning, everything top to bottom, and we are now repainting and redecorating, and looking forward to welcoming our first customers.'
Sara is not new to the catering industry, having previously run McDambi's At Seacourt, Hayling Island and also setting up Free From Temptation, a bakery that specialised in gluten-free cakes and confectionary.
She has also overcome personal challenges due to a bone infection that left her using a wheelchair in 2017, meaning she had to learn to walk again.
The mum-of-two is also pregnant with the new baby due in 15 weeks, although she says this won't hold her back from the new business venture.
She said: 'The potential this place has over the next 10 years is amazing. We are so happy to have found a home.'
Story by Kimberley Barber
Promote your business with The News
We have seen how tough the past year has been on businesses so we've decided to do our bit to help by offering a new way for businesses to market - and a lower cost.
The scheme, sponsored by the Federation of Small Businesses, will help businesses promote themselves at a fraction of the usual advertising or marketing costs.
As the pandemic ends, there's never been a better time to promote your business and make it stand out.
Come to us and take up this one-time only opportunity for the lowest-ever cost to appear in the area's biggest news outlet with authentic, interesting copy.
- How much does it cost?
75 per cent off normal rates. A one off, one time fee, no contract
- What do you get?
A guaranteed published article in The News - and online at portsmouth.co.uk
- How does it work?
Our business editor Kimberley Barber has been helping businesses to stand out for 10 years. She will help you identify the thing your business needs to shout about, in order to get it noticed.
Whether that's a new product, an expansion to your team, an award win, or even just simply a change of opening hours - there are many reasons that a business would need to shine a light on itself.
Kimberley will help you to find your 'top line' and her team will create an authentic article to appear in the pages of The News.
Your company doesn't need to employ somebody to find the best news, or even write it, let the experienced team at The News do it for you.
Not only will your article run alongside the daily business page, putting it in the perfect spot to reach engaged readers, it will benefit from the News' insider track on what makes attractive content that will engage your customers.
- What could happen after appearing in The News?
Our newspaper is read by thousands of people everyday. It's been the traditional route to reach people in Portsmouth for hundreds of years.
It is read by all major news outlets, and is often the starting point of national stories.
Being in The News gets your story in front of the right people.
If your story has editorial value, it will appear on our website portsmouth.co.uk - reaching worldwide audiences of hundreds of thousands of people.
As well as this, with the right tweaks, it could appear on The News' Facebook page - reaching a following of 120,000 people who all have an interest in this area instantly.
The News also has Instagram, LinkedIn and Twitter followers - if appropriate for these audiences, your story will be shared on these accounts too.
Being published in The News is just the start, with our help, we can get you on the path to national recognition.
- What else do I get?
As well as the pride and prestige of appearing in the biggest and longest-serving news outlet in Portsmouth, you will become part of our network.
You'll join a group of like-minded businesses and individuals who all have Portsmouth at their hearts.
You'll also get access to special advertising packages and discounts, should you wish to further promote your message.
Join us, it's the start of our business community coming together and working together for the benefit of our community.
- How do I sign up?
For further business support contact Emma Weatherstone, membership advisor Portsmouth & Solent Federation of Small Businesses on [email protected] or 07764432489
A message from the Editor, Mark Waldron
You can subscribe here for unlimited access to our online coverage, including Pompey, for 27p a day.