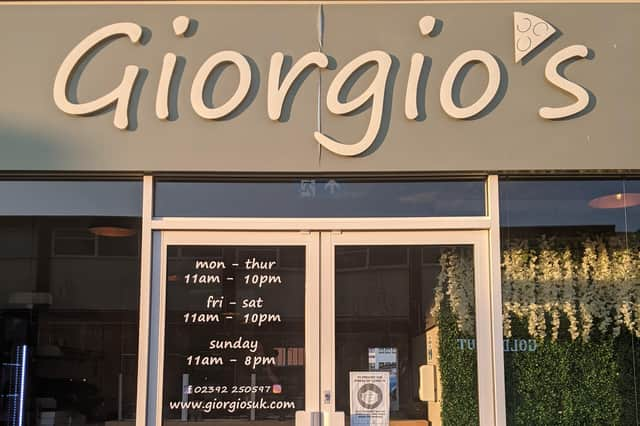 Giorgio's at The Precinct, Waterlooville.
As a pizza lover, my curiosity was certainly piqued by the utter vastness of these cheesy dishes.
When recommendations started coming in from Waterlooville-based friends, however, I knew the time had come to pay this place a visit.
Giorgio's offers free delivery to a number of postcodes in the Waterlooville area including my own, but, wanting to check out the shop itself, I decided to order for an evening collection.
Giorgio's veggie fiesta pizza.
Walking into town and spotting the sage-green shop front, I was surprised to realise that I'd walked past Giorgio's several times without realising what exactly I was looking at.
It's just down from the library in Waterlooville precinct – you may have spotted its leafy wall through the window, the rustic window display of a bicycle with its basket filled with ears of wheat, and wooden crates of unbloomed roses.
Inside, there's a slip of space before the counter, which is blocked off by plexiglass for Covid precautions.
I arrived a little earlier than my collection time, meaning I had a couple of minutes to spare as the Giorgio's team boxed up my short stack of pizzas.
A friendly woman at the till took my payment as I had a sneaky nose beyond the plexiglass to see the artists hard at work, adding toppings and deftly slicing pizzas before boxing up the orders. In and out in no time, I head home to serve dinner.
Word of mouth may have carried news of the super-sized party pizzas, but our small party set our ambitions on slightly smaller servings, deciding to share between us three of the 12-inch options from Giorgio's menu.
We opted for the posh marg, a veggie fiesta, and, as a meaty option for the non-veggies among us, the ham and mushroom. The posh marg (£8.50 for the 12-inch) was by far Dish Detective's favourite. You get your standard tomato base with mozzarella and Italian hard cheese, but with added cherry tomatoes, basil oil, and rocket.
The latter comes in a little pot for transporting home so that it is as fresh and as unwilted as possible when the pizza box hits your dining table, carpet, or knees.
Fresh rocket added a fresh, zingy and peppery twist to the pizza – a delicious extra that really shaped the dish. The well-tailored simplicity of the posh marg really made its select flavours pop.
The veggie fiesta (£9 for the 12-inch) may not be posh by name, but with its stylish vegetable mix – courgette ribbons, roasted red onion, and light addition of garlic – it tastes quite fancy. Enough toppings on this one to give the pizza distinct flavour but not so stacked up that each mouthful becomes a strategic challenge.
The ham and portobello mushroom (£9.50 for the 12-inch) added a little something extra to the classic with a shake of oregano and a shave of parmesan.
All on thin bases with slightly crispy crusts, our party agreed Giorgio's dishes are not as greasy as the offerings from some of the big chain pizza names.
If you've somehow got the room, Giorgio's offers garlic pizza bread with or without cheese in 12-inch or 20-inch sizes, as well as your standard dips and drinks.
For those hankering for a sweet treat, Giorgio's has a number of post-pizza options including a chocolate orange pudding, cinnamon bread, cannoli, cheesecake, and mousse.
Giorgio's is a treat for pizza lovers, and particularly for anyone looking for something less stodgy than typical fare from some of the well-known franchises.
The topping combinations put the emphasis on flavour, rather than sheer weight in cheese and bread. Fresh, flavourful, and delicious.