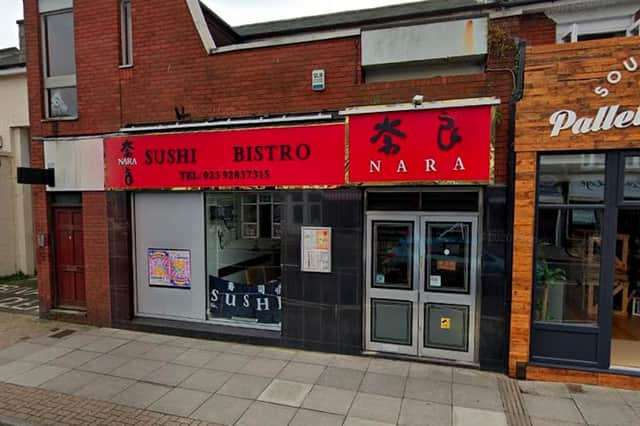 Nara in Albert Road, Southsea.
And with that in mind Japanese bistro Nara in Albert Road, Southsea, proved to be the perfect choice for this review.
Situated at the eastern end of the road, away from some of the busier and more well-known venues, the restaurant has plenty to offer from sushi, to teriyaki, to sashimi and noodle dishes.
From the outside Nara might not look as imposing as other eateries in the area but that does not dictate the quality of food available.
The vegetable tempura sushi at Nara.
And now with dining-in not an option it gives the food a chance to speak for itself.
On a cold February evening my companion and I excitedly trawl through Nara's comprehensive menu on the ordering app Just Eat to find there's so much to choose from.
Both of us are drawn to hearty, warming meals to help fend off the bitter cold outside.
And one of the joys of Nara is the vast range of sharing dishes – perfect if you're lucky enough to be celebrating Valentine's Day this weekend with someone.
The vegetable ramen from Nara.
We order the food for as soon as possible and it arrives within 45 minutes, still delightfully hot within the containers.
To start we break into the two sharer dishes: six pieces of vegetable tempura sushi for £8.60 and five vegetable gyozas – or dumplings – priced at £6.60.
We aren't sure what to expect from the sushi, because tempura suggests it will be fried.
It turns out the whole sushi piece – the vegetables wrapped in rice – has been fried, not just the vegetables on their own.
We agree that this is a delicious take on sushi that we hadn't tried before.
As is traditional it is served with ginger, soy sauce and wasabi for you to apply yourself.
The tempura sushi is tasty but the gyozas are even more so.
Served warm and filled with fresh vegetables these definitely help chase the winter blues away.
It is surprising we still have room for our main dishes but we valiantly carry on.
My companion has chosen the vegetable yaki udon (£8.90), which is made of thick, stir-fried noodles and vegetables in a soy-based sauce.
The noodles are delicious and the vegetables have a lovely crunch to them.
I have to admit I experience a slight pang of food envy watching them enjoy their meal.
This is in part because of the slight disappointment over the vegetable ramen (£9.10), that I had ordered for me.
There's no denying it is a warm and filling meal.
However, the broth of the ramen is not as flavourful as your Dish Detective would like.
Although there are a few vegetables and chunks of tofu in the dish there is not much variety in its taste.
Dish Detective can't help but wonder if the broth would be improved by opting for one of the chicken or fish varities of the dish, or by adding an egg on top for an extra £2.10.
But this does not detract from what is otherwise an excellent meal all round from Nara.
It is definitely somewhere to consider paying a visit when restaurants open again.
And for those of you with a sweet tooth it is worth noting that Nara also offers doroyaki as a dessert – a traditional Japanese pancake with a range of sweet fillings including chocolate, red bean, lemon, strawberry and custard.
Your Dish Detective had just eaten too much this time around to give it a try.