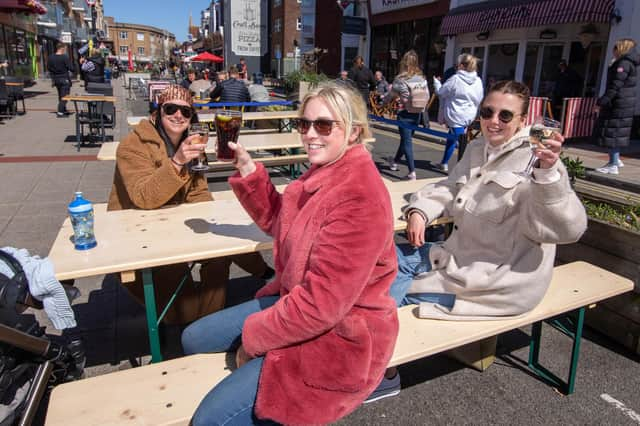 Ellis Ballard, Blair Ballard and Josie Taylor enjoy the sunshine at Palmerston Road. Picture: Habibur Rahman
Landlords at 11 pubs have said 27,540 pints have been sold across the area following the latest step in lockdown lifting on April 12, with customers flocking to beer gardens and streets outside venues.
The News has been talking to landlords, landladies and managers to find out what business has been like since the reopening - and to find out how many pints have been served.
Lawrence Hall, general manager of The Shepherd's Crook, says that the Goldsmith Avenue pub has served around 2,200.
Molly Jones and Adam Butcher enjoy a drink at The Jolly Sailor. Picture: Habibur Rahman
He said: 'We have been absolutely chokka.
'Even usually quiet week days are busy at the moment. The first week was the best - but this week is still pretty damn good.'
Ross McInally, landlord of The Jolly Sailor on Clarence Parade, estimates that the pub has served around 6,000 pints since reopening.
He said: 'It's just mad. I've been more excited than I thought I would be, I surprised myself.
Rodney Watson of The Southsea Village holding pints of beer at Palmerston Road. Picture: Habibur Rahman
'It's been really busy - it always has been when the sun shines. People are making a beeline for the sunshine terrace.
'Our staff have been enjoying getting back to work, they're loving it.'
Today, pub-goers enjoyed the sunshine in Southsea while staff served drinks.
Landlord of The Jolly Sailor, Southsea, Ross McInally, raises a glass. Picture: Habibur Rahman
Couple Aron and Lin Carrott of Albert Road stopped for a refreshing drink outside The Jolly Sailor in Southsea while taking a walk in the sunshine.
Aron said: 'It's our first time having a drink at a pub since the first lockdown. It's great, it does make life better.'
Lin added: 'It's nice because we've been inside for over a year.'
Also on the Jolly Sailor sun terrace was student Molly Jones, who was enjoying a cider with her friend Adam Butcher, a Southsea local.
Lin and Aron Carrott enjoy the sunshine outside The Jolly Sailor. Picture: Habibur Rahman
Molly said: 'It's nice to catch up, I haven't seen anyone for a while. To come and have a drink and see friends is great.'
Adam, who is celebrating a new job, said: 'I'm really happy to be out, life's been monotonous. It's great to be able to meet up in the sun.'
Rodney Watson, landlord of The Southsea Village in Palmerston Road, says that the pub has sold around 2,000 pints since opening its doors after lockdown.
He said: 'It's been full-on everyday, a really good atmosphere.
'I'm happy to be out and about, the whole team couldn't wait to get back to work.'
The Lord Palmerston, just up the road, also welcomed back customers from April 12.
A JD Wetherspoon spokesman said: 'Staff and customers are delighted to be back in the pubs. It has been our aim to bring as many staff back to work as possible.
'The pubs have been extremely busy at all times.'
Albert Road landlords have also reported a rise in trade.
Tom Yaman, landlord of The Duke of Devonshire, said: It's been much better than my expectations. In the garden, it's been constantly one in, one out. We've been really busy and it's been brilliant.'
Along the road, Sean Muns, general manager of The Kings, said: 'We normally go through a keg of Birra Moretti in a week - at the moment I'm going through four a week. Trade has gone through the roof.'
Barry Kewell, owner of the Northcote on Francis Avenue, said: 'We've done very well, I have to say. I didn't think we would be reopening until May because of the weather, but I'm lucky to have some hardened, regular drinkers who have been really loyal to me.'
The Admiral Drake, on Kingston Crescent, is estimated to have sold around 3,500 pints since reopening.
Landlady Karen Hughes, said: 'We have been busy since we have opened - because so many pubs aren't able to open. We have had lots of customers coming in who don't usually drink here.
'And I want to thank our team - table service is really hard work. Our team have worked their socks off.'
Nearby, Chichester Road pub The Pelham Arms also reported a high level of pub-goers.
Chantelle Larcom, staff member at the pub, said: 'We have been busier than usual - non-stop.'
In Fratton, owner of The British Queen Alex Vernal said: 'I've been here two and a half years and the first week was by far the best week, from a turnover perspective, I've ever had.
'It's been brilliant, people have been really positive. We've taken on four extra staff to meet demand and we've opened a breakfast cafe offering in the morning that has been really positive.'
A message from the Editor, Mark Waldron