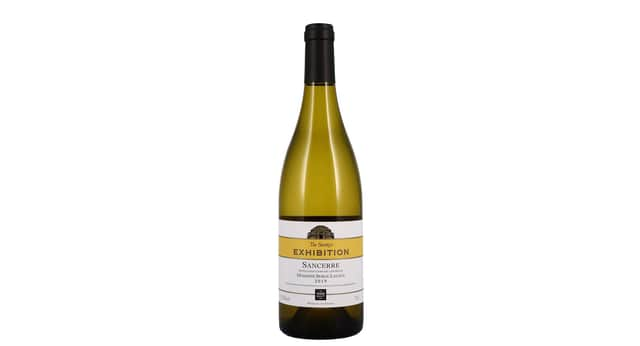 The Society's Exhibition Sancerre 2019 wine.
Officially the start of the British asparagus season is appropriately St George's Day and with a bit of luck, it should keep going until the end of June.
There is simply no substitute for British asparagus, indeed I seldom eat it during the rest of the year. But it has been labelled as a very difficult food to match with wine.
While there is a certain truth in that, like many dishes it depends of how you cook it and what other ingredients are involved. Sauvignon blanc is the go-to grape and in general, lighter whites work well.
Wines to avoid would be over-oaked, richer whites but there are, of course, exceptions. Red wines are not really in play, however barbecued asparagus wrapped in pancetta, for example, could allow for a silky pinot noir.
Here are three wines to try during the next few months with British asparagus.
The Society's Exhibition Sancerre 2019 (thewinesociety.com) is made for The Wine Society by the highly regarded producer Domaine Serge Laloue. Farmed organically, but not certified, and grown on the classic flinty, granite soils that sauvignon blanc thrives on, this is text book Sancerre.
The nose is very fresh and offers lime peel and orchard blossom, followed by some richness on the palate and a touch of minerality.
This is gorgeous food wine, try with chilled asparagus as part of a salad or match with goat's cheese or fresh crab.
Emma Marris Sauvignon Blanc 2019, Marlborough (Majestic £11.99 but £9.99 as part of a mixed six) is produced by the daughter of one of the most famous winemakers in New Zealand, Ned Marris, and is classic Marlborough sauvignon blanc. The nose is very aromatic with passion fruit, citrus, blackcurrant and yes even a touch of asparagus. This would work well with a dish of grilled salmon and asparagus or if you were being adventurous, try an Asian stir fry incorporating asparagus.
Errázuriz Chardonnay 2019, Aconcagua Costa (Ocado £16.99, oxfordwine.co.uk £15.99) is from one of Chile's coolest vineyard spots and this is a really high-class wine. There are aromas of ripe green apples, fresh bread and a little spice on the nose, followed by a creamy, textured palate with some minerality, which is all really well-balanced. I think serving asparagus with hollandaise sauce or a poached egg is an opportunity to open a chardonnay, and this would be a lovely match.