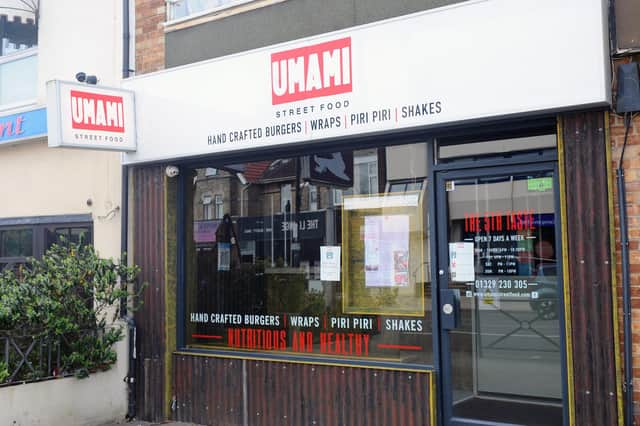 Umami in West Street, Fareham.
It doesn't even really matter what the free item is – a sticker or a toy would do – but when you are offered free food, it really is the icing on the cake.
Or in this case, the icing on the roast chicken.
A weekend takeaway treat pulls your reviewer towards a classic burger and fries, and after scouting out the untried delicacies of the area I settle on Umami Street Food in Fareham.
Umami Street Food in Fareham, Dish Detective. Pictured: Pittsburger with rosemary salt fries
Having reviewed the Southsea dine-in restaurant when it first opened in 2016, I decided it was high time to try its takeaway counterpart in West Street, Fareham.
The menu is loaded with huge burgers, chicken cooked to various spice levels, a smattering of sides and there are even some Lebanese choices.
Having roped in a fellow burger-lover, we both choose from the small but perfectly formed list of patties and toppings.
I am tempted in by the Attitude Burger (£8.79), a 6oz beef patty loaded up with guacamole, chilli sauce, jalapeno, lettuce, tomato, onion, pickle and American cheese.
As my companion is less of a spice enthusiast, they choose the jerk BBQ, turkey bacon-loaded Pittsburger (also £8.79).
Handily, the website offers a section to include cooking instructions, so we both ask for no tomato and my dining partner takes it one step further by taking off the pickle.
We each order some rosemary salt fries (£3.49 each) and opt to share six chicken strips (£6.49).
This is where the exciting bit happens: as our bill has reached £25 or more, we are offered a free half chicken as we check out.
Despite having ordered plenty of food, who can resist a freebie of this size?
After ordering through the website, my stomach grumbles in dismay at the proposed hour-long wait.
As it's a busy weekend, we are prepared to wait – but a pleasant surprise comes as the doorbell rings 30 minutes later with our dinner being delivered.
We dive into the bags and are immediately shocked at the amount of fries each portion comes with. While ordering, it crossed my mind that £3.49 might be a bit steep for a portion of fries – but the mountain we are presented with is definitely worth this price.
A common pitfall with this type of takeaway is that the burgers and fries are not piping hot, however this is nothing a quick fix in the microwave can't sort and we are soon ready to eat.
My Attitude Burger is divine with a little bit of a kick to it and the meat is cooked all the way through.
Despite mistakenly thinking the chicken strips would be breaded, I enjoy the spiced breast pieces all the same.
In hindsight, I think we could have done without this side dish. The burgers and fries would have been more than enough to fill us up nicely, but we ploughed on with the strips regardless.
My companion wolfs down their chosen burger and was pleased to see their fussy directions had been obeyed.
Our mountain of rosemary salt fries goes down a treat – the unusual topping should definitely be considered by other fast food outlets as it works perfectly and brings an extra something to the chips.
The meal leaves us stuffed, and so the complimentary (and delicious) garlic and herb half chicken makes itself useful in a salad the next day to try to make up for the night's enormous feast.
It is a huge portion, with both a leg and breast to devour, and we cannot quite believe this came free with our dinner to provide a second meal the next day.
Even without this generous addition, Umami's Fareham takeaway is definitely worth considering when you next want to treat yourself to a slap-up meal.