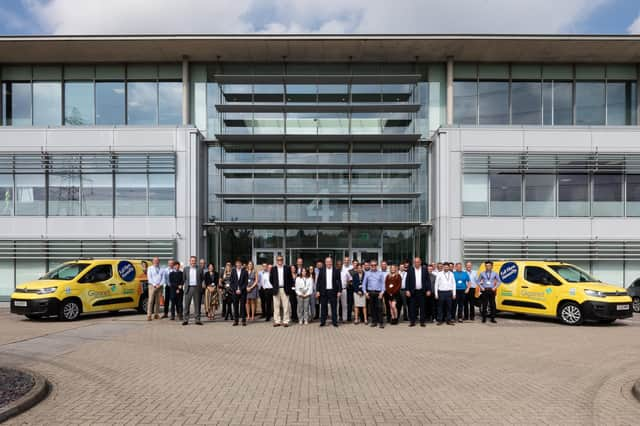 Some of the Giganet team at the company's Whiteley HQ
Full fibre broadband is future-proof, so Pompey residents will not have to think about upgrading.
Local company Giganet is connecting Portsmouth to the fastest broadband for life. And, on one-month rolling contracts. It's like nothing you've experienced before.
The brand new broadband network is being built at a rapid pace by wholesaler CityFibre. Engineers are extending the network to around 2,000 homes per month and currently more than 19,300 can access this new gigabit full fibre.
Giganet - bringing hyperfast broadband to Portsmouth
Large areas in Southsea, Fratton, Buckland, North End, Copnor and Milton have already gone live and seen their broadband speeds go through the roof.
In the coming weeks, thousands more homes in Anchorage Park, Milton, Eastney and North End will be able to get connected.
Areas shown in green on the map can benefit from full fibre now. Areas in yellow will be added to the network very soon.
More than 10 times faster than Portsmouth's average broadband speed of 88.21Mb/s, Giganet's top full fibre package boasts speeds of up to 900Mb/s.
A map showing high speed broadband installation - areas shown in green can benefit from full fibre now and areas in yellow will be added to the network very soon.
Hyperfast speeds and vastly increased reliability bring a whole host of benefits to local homes and businesses. Whether you want to work from home, stream and download movies, game without lag or kit out your home with smart tech, full fibre makes all this possible.
Giganet's Chief Customer Officer Rob Baynes, who lives locally, explains: 'We're so pleased to be connecting Pompey to gigabit full fibre broadband, which is so much faster and more reliable than what was available before.
'The feedback we've had from local customers has been fantastic and we're pleased to be the only provider offering one-month contracts and the best value in the city.'
With these monthly rolling contracts, Giganet are so confident that you will be blown away by their speed, reliability, customer service and pricing that they don't tie customers down to lengthy contracts.
As well as free router and installation for most types of home, their monthly pricing is set. That means no nasty add-ons, just one low fixed cost.
Rob continues: 'Giganet's full fibre means customers can enjoy the level of service you should expect. When you need to speak with us, you will get a real expert at the end of the line.
'No script, no call centres, no scrolling through endless menu options, no frustratingly long wait times; just a fast response. That's why we're rated 'excellent' by Trustpilot.'