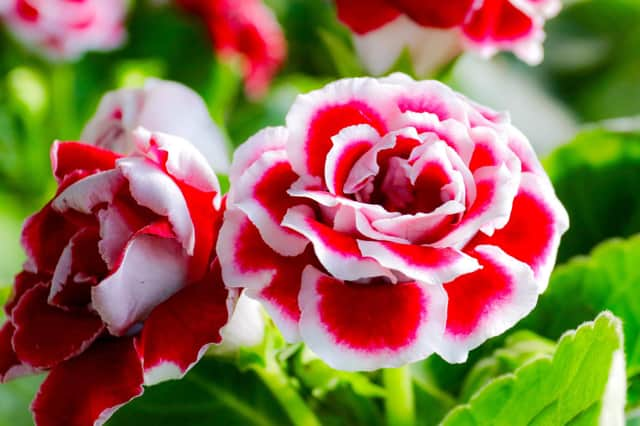 All the way from South America - gloxinias.
I made a note that camellia simplex Alba was in bloom on January 3 followed by Souvenire Du Mahood Litou a week later.
Last year they started to bloom in mid-Feburary and, my word, how lovely it is that they survived the freezing cold winds.
The Chinese witch-hazel came into bloom on Boxing Day and the perfume was a sheer delight, but our daphne, Jaquiline Postil, is the star of the garden – light pink, beautifully perfumed flowers, evergreen and so easy to grow. I knew it would grow to six feet but I can't believe all the branches would produce such an abundance of blooms. If you have the space it is 10 times better than daphne odora!
As it has been so cold and wet the soil outside is best left alone. I tried to dig out a dock weed and the hole filled with water. Not planting weather but things will soon improve.
This week I would like to encourage you to grow a gloxinia.
These wonderful indoor plants, with their huge leathery foliage and large trumpet flowers, celebrate a physician, Dr Benjamin Peter Gloxin, and the original plants were found in Brazil. Wow! Fancy finding them in the wild for the first time, it must have been amazing.
My wife Pam grows them from seed every year and the seeds were sown this week in a plant propagating frame in the greenhouse.
The seeds are really tiny and should be sown in a temperature of 18C (65F).
They are very slow when germinating and a lot of people don't bother to grow them from seed. So, is there another way?
Gloxinias tubers are just arriving at garden centres and are about £3.99 for three. Just look for them in packs hanging on the racks. Look at the picture on the front of the pack, choose the colour you like best and you won't go wrong.
The tubers are rounded at the base with a shoulder on top and you will be able to see where last year's shoots were.
Put the tubers in moist, loamless compost in a temperature of about 15C (60F) and new shoots will start to grow on the top of the tuber.
If you decide to grow just one, place the tuber on top of the compost in a three-inch diameter pot.
Water the compost and shoots will appear in about three weeks.
Once the small pot is full of roots the plant should be repotted into the next sized pot in any universal potting compost or John Innes No3.
A greenhouse isn't essential. A woman who lives at a sheltered housing complex wrote to me last year saying she grew them in her window and everyone admired them.
Once the pots are full of roots they must be fed using Maxicrop for tomatoes. Start feeding a fortnight after potting them into the five-inch pots, just once a fortnight.
Keep the plants in the light, don't over-water them and they will be in bloom from late July right up until the late autumn and you will be able to tell your friends they came from Brazil!
Do you like a bargain? Once they die off during the winter, keep the pots dry and at this time next year, knock them out of the pots, find the tuber in the compost and plant them again in fresh compost.
If you don't want to go to a lot of trouble, pop in to your garden centre in about two months when you should be able to find plants already established in pots.
As you have read, they are easy to grow and you now know how to keep them for several years. They really are the most glamorous of flowers.
Sow seeds of petunias in a seed tray in the greenhouse. Avoid cheap bedding mixed types.
Try an F1 hybrid for best results. You will get bushy plants which won't go spindly with just one bloom on the top.