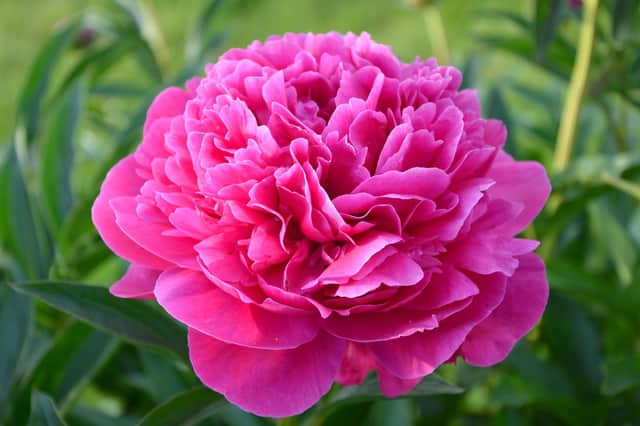 Let the sun get at your peony's rhizomes.
Q: I am growing a peony in a large pot. It produces tiny buds but they don't flower. What can I do ? RJ, by email.
A: Peonies have thick roots called rhizomes. Flowers will be good if the rhizomes have plenty of sun. If you can't see the rhizome the sun can't get to them. Remove compost in the pot so the fat top part is exposed to about an inch in depth. When watering add Maxicrop for tomatoes to provide potash and you should have a good blooms next year.
Q: Can you identify the plant from the leaves enclosed? I sowed hardy annuals but cats disturbed some labels and others I can't read. Is there a marker which won't fade? FM, Petersfield.
A: The leaves are nasturtium. You can transplant them easily if the plants are watered an hour before moving. I use a pen called Write 4 All. My writing is still visible after two years.
Q: Some of my strawberries turn totally brown when they are nearly ripe. Is there a safe spray I can use to prevent this problem? SM, Cosham
A: No. What you can do is to remove any which are just showing the disease. Cut out the bad bits, wash the fruit, cut it into pieces and then use it in a strawberry jelly or make some jam. Don't leave fruit on the plants because the rotting will affect the other strawberries.
Q: I bought an old book in which I found a chapter about John Innes' composts. Can I use the edgings from my lawn to rot down to make the loam? CL, Rowlands Castle.
A: Yes, but add some manure too. About 20 per cent will be the right amount and to be successful, use a compost bin to speed up the rotting process. If you start now the loam will be ready to be sieved next March.
• Got a question for Brian? Click here and fire away.