Portsmouth broadband: how to get faster service
As of today, 10,014 homes in Portsmouth can get full fibre broadband, thanks to a massive investment in the city over the past year.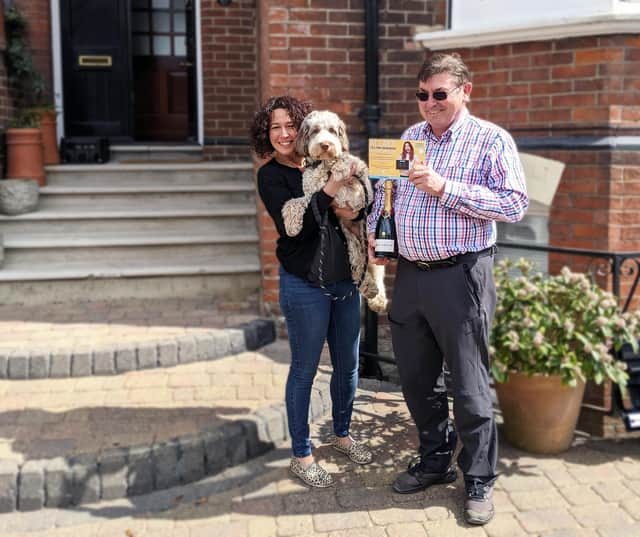 100th customer Peter Clarke celebrates with a bottle of bubbly
CityFibre has been building a brand-new network since 2020, with the initial phase set to continue for the next three years. New streets go live every week, with roughly 400 homes added every seven days.
Work to install fibre optic cable to a whole street is usually completed within a few weeks, with it then going live a few months later. The first streets to go live in Portsmouth were in Fratton, Kingston and Southsea, with areas in Buckland and Eastney soon following.
These are the areas now covered in Portsmouth
Local Internet Service Provider Giganet has been partnering with CityFibre since 2017 and they connected the very first Portsmouth homes in February this year. With a focus on customer service and honest broadband, Giganet is doing things differently to the larger broadband suppliers. Its 12-month contract term and promise not to automatically increase pricing is a breath of fresh air. Its great value packages and free installation means many previously contracted to other providers will soon be saving substantial sums per month.
Unlike the existing copper network in Portsmouth, this is a completely new, full fibre infrastructure, capable of delivering speeds of up to 900Mb/s. For many residents, this will be the first time they can access full fibre technology at home.
Currently, most UK homes still connect to the internet via networks originally built for telephones. Full fibre, on the other hand, is designed specifically for the digital age. Using end-to-end fibre optic technology, data is carried at light speed right to each home, meaning the end of buffering and connection drops.
Find out how you can register your interest
As more streets go live, the Giganet team have been connecting increasing numbers of residents to speeds up to 900Mb/s. Customers are thrilled to be able to stay in close contact with loved ones via buffer-free, crystal clear video calling. For streets that are not yet live, Giganet allows residents to register their interest to be notified as soon as their home can get connected.
The benefits of full fibre are numerous and far-reaching. Aside from allowing households to enjoy the latest entertainment at lightning speed, it means working from home and access to digital healthcare is quicker and easier.
Portsmouth is a city with thousands of thriving small businesses and entrepreneurs. Full fibre will turbo-charge their productivity and drive innovation. In a 2019 FSB survey, 94% small business owners said they considered a reliable internet connection to be critical to the success of their business. But across the UK only 12% had full fibre broadband available to them.
Engineers are working hard to deliver the latest technology
A spokesman said: "By the end of this year, the number of local homes who can benefit will reach 24,000. At the end of the initial phase, it is projected to be available to 87,000 homes. This £35m project will future-proof our waterfront city's connectivity for decades to come. Local company Giganet are proud to be at the forefront of the city's digital innovation."
If you want to go digital, trust Giganet to supercharge your home. To find out whether you can get connected, check out this link.