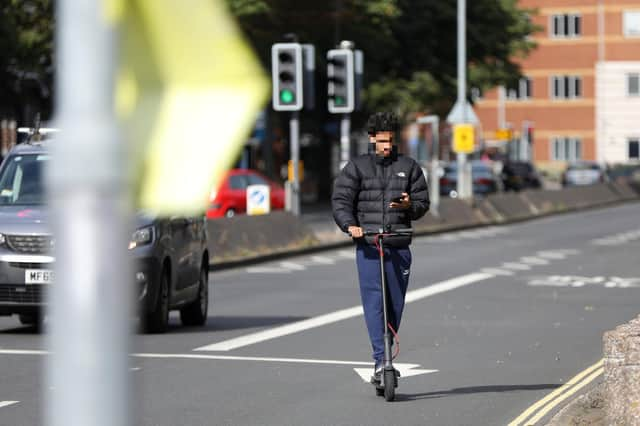 Electric scooter, Winston Churchill Ave, Portsmouth Picture: Chris Moorhouse (270820-07)
It comes as one person photographed by The News was seen using his mobile phone in Winston Churchill Avenue in Portsmouth while riding along.
The shot bolsters a growing wealth of evidence of adults and youngsters using e-scooters in the area illegally.
Councillor Lynne Stagg, cabinet member for transport at the city council, is asking police to do more to combat the rising use on streets and roads.
A boy on an e-scooter in August 2020 captured near Gunwharf Quays in Portsmouth.
Retailers are selling the scooters for hundreds of pounds – despite them only being legal to use in trial areas through approved council-run rental schemes in England.
Cllr Stagg said: 'Apart from the fact they could hurt themselves, they could cause unknown amounts of traffic accidents.
'It's so sad because I think they're an ideal way to encourage people not to use their cars as much and get from A to B if they're ridden properly.'
Cllr Stagg, who is overseeing the setting up of a possible trial in Portsmouth, said she had seen a youngster 'nearly killed' riding on the wrong side of Burrfields Road, cutting through a pedestrian refuge and then 'stick two fingers up' at oncoming cars.
'How there wasn't a major accident I really don't know,' Cllr Stagg said.
Among those concerned is cycle importer Andy Tiller, 54, from Waterlooville, who said an e-scooter rider pulled out into the road to swerve a drain and hit his car.
Andy said: 'I was going along the road to Bransbury Park and he just swerved out to miss the gutter... and his body hit the car.'
He added he fears he could have 'nearly killed' the rider and another young rider in Waterlooville who shot out of a side road into Highfield Avenue without stopping.
'I just never know where to expect them,' he said. 'I don't think it's going to be long before someone gets killed.'
It is illegal to ride an e-scooter on a public road, cycle lane or pavement. Electric-powered push bikes limited to 15.5mph are legal.
Concerned resident John Simmonds, of Lodge Avenue in Cosham said he had seen a rise in use over lockdown.
'They're great things but let's get a grip on them,' he said. 'The retailers don't really care – they retail from anything from a couple of hundred to £1,000.'
He is concerned after seeing near-misses near care homes and retirement flats between his home and shops at Drayton.
If Portsmouth City Council's trial was given permission, the e-scooters would be allowed in cycle lanes and on pavements in certain areas.
In the trial scooters are allowed on roads, not pavements, capped at 15.5mph and riders must be 16 or over with insurance and at least a provisional driving licence.
Waterlooville police previously warned they were educating riders but could move to seizing e-scooters.
Hampshire Constabulary was approached for comment.
'Cyclists and e-scooter riders should have registration numbers'
SCOOTER riders and cyclists should be forced to have registration plates, the city's transport cabinet member has said.
Councillor Lynne Stagg said she had concerns about e-scooter riders even if they are over 17 and taking part in a government rental trial.
She said: 'I think they should have to have a registration number on them. I think that should be true of cyclists as well.
'We have quite a lot who shouldn't be on the roads. Unless you follow them to their home you have no idea who they are but if you did have a registration plate of some description they should be tracked down.'
Cllr Stagg wants legislative change to address the e-scooter problem, and said police are too thinly stretched to be the only solution to the problem.
A message from the Editor, Mark Waldron
Thank you for reading this story. The dramatic events of 2020 are having a major impact on our advertisers and thus our revenues.
The News is more reliant than ever on you taking out a digital subscription to support our journalism. You can subscribe here for unlimited access to Portsmouth news and information online.
Every subscription helps us continue providing trusted, local journalism and campaign on your behalf for our city.