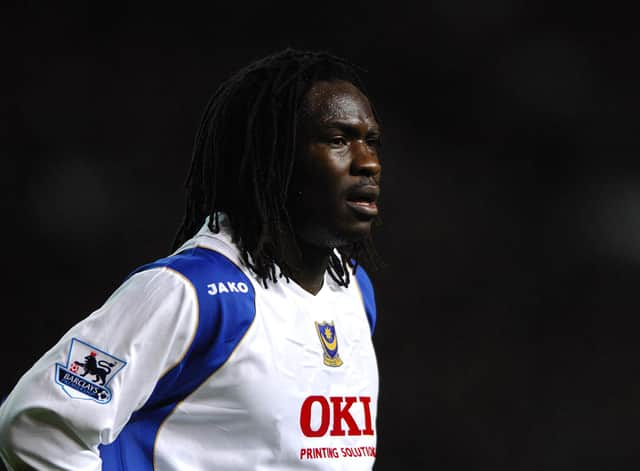 Linvoy Primus, Portsmouth. Picture: Neal Simpson
It comes as Hampshire police started a hate crime probe over a screenshot of a racist Snapchat conversation which they say is 'alleged to originate' from the club's under-18 academy.
The messages refer to lynching and death threats, with monkey emojis posted, apparently in response to three black England players failing to score penalties.
England trio Marcus Rashford, Jadon Sancho and Bukayo Saka faced a torrent of racist abuse online after their shots against Italy on Sunday. Sancho, 21, has spoken out saying 'hate will never win'.
Anita Anongu, 53, from Waterlooville, at a Black Lives Matter protest in 2020. Picture: David George
The News understands senior management at the Fratton Park side are poised to suspend any individual who is found to have been involved.
Former Blues defender Linvoy, who said he never experienced racism on the pitch at Portsmouth, spoke to The News after the club launched its probe.
Linvoy, who made 219 appearances for Pompey, said: 'It's disappointing, I think hopefully the club will be able to do something that will send a signal and sign to others - not just others in the football club - but across the world of football.
'But even in Portsmouth it's a diverse community. The repercussions of what the club does will ripple effect into the city, so in one way or another the club is going to be looked at to see their reaction.
Nathan Ashmore. Picture: Malcolm Wells (160903-0040)
'Hopefully whatever the reaction is, it allows people to really think about what they've done and really be educated about what they've done.'
Linvoy said parents of future generations of black players will want to know how the club has acted.
He added: 'I think it's time now people are held accountable for what they do.
Former Portsmouth FC defender Linvoy Primus during a training session, Thursday December 18, 2003. Picture: Chris Ison/PA
'Players are held accountable for what they do or don't, maybe now it's time for clubs, players and fans to make sure that incidents like this are very rare, and if they do happen let's have a real, purposeful way of dealing with that, not to tick boxes or cut them off for life.
'It takes a great bit of education, meeting some people from different communities, hear the struggle, hear when things are said about them - let them get the real feel of it.'
He added: 'It's a club responsibility but it's wider than the club responsibility, as well... it's a community thing that needs to be dealt with.'
Linvoy added: 'As a club it's an opportunity to really look and dig deep and say where do you start educating [those responsible]?
'The reality is if you're going to make it in football you're going to meet a lot of cultures and diversity, and if you can't handle that, and you're a role model whether you want to be or not, there's going to be trouble coming along at some point.
Police were alerted at 3am on Wednesday morning to the screenshot.
A spokeswoman said they received a report about a 'screenshot circulating on social media depicting discriminatory language'.
'The comments are alleged to originate from a group chat relating to Portsmouth Football Club's under-18 academy,' she said.
'The report is being treated as a hate-related incident and is under investigation.
'We will not tolerate hate crime in Portsmouth. Any crime perpetuated through ignorance, prejudice or hate is unacceptable.'
Ex-Gosport keeper Nathan Ashmore, who lives in Drayton and trialled for Pompey at 14, said what he saw was 'nothing short of a disgrace'.
He has spoken out previously about racism he was subjected to by Portsmouth parents while a child playing football.
Nathan, who plays for Boreham Wood but lives in Portsmouth, told The News: 'What I've seen is absolutely disgusting. It's a disgrace. I just hope that they do the right thing.
'Doing a full investigation is the right thing to do because if you start getting rid of people... you have to make sure it's done properly.
'You would hope that will follow them for the rest of their lives - they can't get away with that, that's embarrassing.'
He praised whoever it was who took a screenshot of the messages and made them public.
'The more people that will stand up and do it, the more people will do it in future,' he said.
'The person - whoever - that screenshot that group chat, fair play to them. They didn't have to do it, and it's killed every single person who said something and rightly so. 'You can't be saying stuff like that.'
The Portsmouth Black Lives Matter group has announced it is holding a 48-hour social media boycott starting at midnight tonight.
Social worker Anita Anongu is a member and said racism is 'coming into our kids' lives constantly'.
The 53-year-old, from Waterlooville, said: 'I'm sick to the back teeth of it.
'I'm really fed up with it. I was fighting with it when I was living in Havant in the '70s and '80s. It's 2021, how are we still here?
'I get so infuriated and so frustrated with it it makes me want to cry or scream 90 per cent of the time.
'Football is a big part of England, it's massive. It just worries me that it's still happening. I've got no words. I'm frustrated, angry and sad.'
A Pompey spokesman said: 'Portsmouth Football Club are aware of images circulating on social media that allegedly originate from an academy u18 group chat and which are discriminatory in nature.
'The club have launched an immediate investigation and will provide an update once this has been completed.
'Portsmouth Football Club strongly condemn racism and are totally committed to the elimination of all forms of discrimination.
'There is no place for it in our game or society as a whole.'
Sixth-tier Havant and Waterlooville FC announced on Monday it had removed a volunteer from his role after 'discriminatory' social media posts after the England loss.
The Pompey Supporters' Trust has said it is 'shocked and appalled' at the allegations.
A statement said: 'We welcome the investigation by the club and following discussions with the club we are aware of the seriousness and urgency that this matter is being dealt with.
'The PST is fiercely opposed to all forms of discrimination and abuse. These vile and abhorrent messages have no place in football or anywhere else in society.'
Racism raised in parliament
Prime minister Boris Johnson announced football banning orders would be expanded to those spewing racist bile online.
Currently courts can ban hooligans from matches – requiring them to hand in their passports in some circumstances.
Home Office figures show for the 2019/20 season showed Pompey had 35 banning orders in place on individuals.
Mr Johnson told Labour leader Keir Starmer at Prime Minister's Questions on Wednesday that those found guilty of racist online abuse 'will not be going to the match, no ifs, no buts, no exemptions and no excuses'.
The English top flight is understood to support the extension of the orders to cover online abuse, and feels they have been under-utilised up to this point.
But Portsmouth South's Stephen Morgan, a Labour MP, tweeted: 'The Prime Minister can't have it both ways.
'He can't claim to be on the side of the England team when he failed to condemn those who booed them when they took a stand against racism.
'They represent the best of us. He falls far short.'
A message from the Editor, Mark Waldron