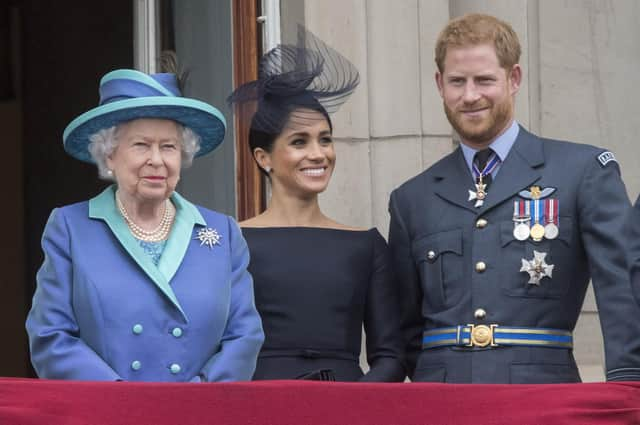 LONDON, ENGLAND - JULY 10: (L-R) Queen Elizabeth II, Meghan, Duchess of Sussex, Prince Harry, Duke of Sussex on July 10, 2018 in London, England. (Photo by Paul Grover - WPA Pool/Getty Images)
Vice Admiral Bob Cooling said the incendiary claims of racism and bullying by the Duke and Duchess of Sussex will have caused a 'deep wound' to the monarchy.
It comes after the couple revealed to American chat show host Oprah Winfrey why they 'stepped back' from royal life during an interview watched by millions worldwide.
Among the bombshell claims to come out from the tell-all was that a Royal Family member had asked Harry and Meghan what the colour of their baby boy, Archie's skin would be – prompting claims of racism at the heart of the monarchy.
Vice Admiral Bob Cooling, pictured in 2004 as the Captain ofHMS Illustrious,
Buckingham Palace has yet to respond to the inflammatory remarks, which were first broadcast in the US on Sunday evening. Oprah clarified that the unnamed individual royal in question was neither the Queen nor the Duke of Edinburgh.
Vice Adm Cooling insisted the method the Duke and Duchess levelled their accusations had been intended to cause 'maximum hurt to the Royal Family and pose a direct challenge to the credibility of the monarchy.'
Speaking to The News after their interview aired on Monday, the retired naval officer said: 'I believe this global embarrassment will be the catalyst for a root and branch independent review of the institution with the aim of significantly reducing its size and creating instead a modern, agile and accountable staff capable of supporting the crown and direct heirs only.
'It would be accepted that the national footprint of the monarchy would be very much reduced but so would the cost to the state.
'Whilst this episode will have caused a deep wound on the Royal Family, it may be that the fallout from this strategic shock will give our nation a monarchy that is fit for purpose in the 21st century and quickly regains its status as the global exemplar.'
The former assistant chief of naval staff added: 'In the meantime there is no question, in my opinion, that the nation – and the military in particular – will remain unshakably loyal to the crown.'
During the interview, Meghan Markle also revealed how she had been battling mental health problems that left her feeling suicidal.
But she claimed when she turned to the royal institution for help, she had been sidelined and left without any support.
The two-hour long interview, recorded in the US, was watched by about 11.3m Brits on Monday.
A message from the Editor, Mark Waldron
The News is more reliant than ever on you taking out a digital subscription to support our journalism.
You can subscribe here for unlimited access to Portsmouth news online - as well as our new Puzzles section.