HMS Prince of Wales: Royal Navy warship completes busiest four weeks ever with intense F-35 landing trials
The Royal Navy's largest warship has completed one of its busiest ever periods on deployment.
Watch more of our videos on Shots! 
and live on Freeview channel 276
Visit Shots! now
HMS Prince of Wales has completed four weeks of intensive trials off the coast of the USA. Specially-modified F-35B Lightning stealth fighters, belonging to the American air force, have now flown home.
Coupled with a wealth of other activity – US Marine Corps MV-22 Ospreys tilt-rotors, CH53 Super Stallions and Viper gunships and supply drone trials – the Portsmouth-based warship's flight deck has never been busier than it has this autumn.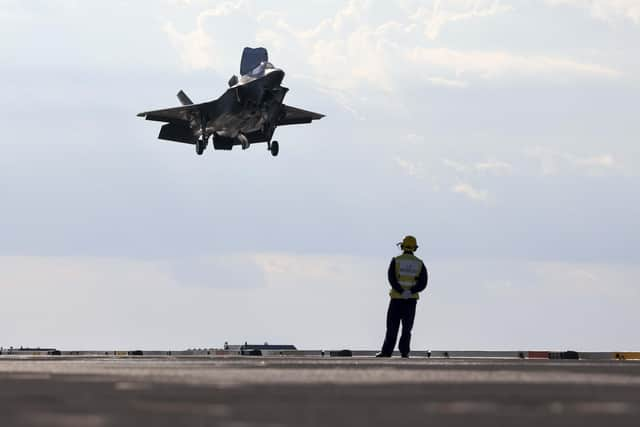 Commanding Officer Captain Richard Hewitt said: "The last four weeks at sea have been the busiest HMS Prince of Wales has ever seen. The test points achieved will not only improve UK F35-B operations, but those of our F35-B programme partners and allies as well."
The ship's deployment – Westlant 2023 – focused on expanding the capabilities of both of the UK's aircraft carriers. Particular focus was put around the launch and landing of F-35s faster during difficult weather conditions day and night.
DT-3 – Development Test, phase three – saw F-35s from the US-based Integrated Test Force, piloted by US Marine Corps aviators, flying on and off the carrier's deck carrying different payloads. This included aircraft being fully 'bombed up' with a full complement of (dummy) weapons, and aircraft engaging in "beast mode".
Key tests were carried out including 'shipborne rolling vertical landings' (SVRL) on the flight deck. These sorts of landings allow for aircraft to return from a mission without having to dump fuel or ditch unused ordnance – reducing the time for refuelling and rearming between flights.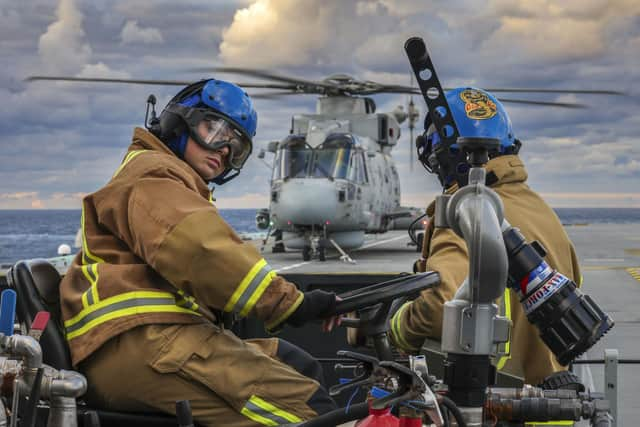 This increases HMS Prince of Wales' capabilities to launch strike missions. Overall, 60 rolling landings were conducted – ten of which at night.
Other trials which were completed include 20 backwards landings (facing towards the stern) – ten at night – and nearly 150 take-offs in different sea states. British and American forces will analyse the data collected over the coming months.
Commander Jamie Elliot, who planned and oversaw the trials, said the data "will inform any future decisions about F35-B operational clearance to take off and land heavier, operate in heavier sea states, and turn the jets around faster for more sorties."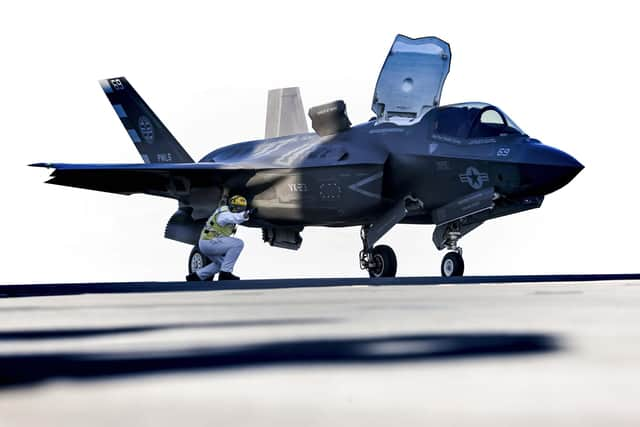 US Marine Corps Major Alex Horne was one of the handful of pilots conducting the aerial manoeuvres which garnered the much-needed data. He said: "It was a brilliant opportunity to fly aboard HMS Prince of Wales and participate in flight trials designed to contribute to pushing the boundaries of 21st-Century aircraft carrier operations.
"It was great to witness first-hand the interoperability of the F-35 and the carrier in conditions ranging from high deck motion to high wind over deck, and from heavyweight and maximum weight launches to slick wing night flying." Andrew Maack, Chief Test Engineer at Pax River US air base – home to the F-35s – hailed the trials as "highly successful" and said he "was proud" of how the team performed from day one.
HMS Prince of Wales will remain in the USA for the next few weeks for pilotless aircraft trials and training with the US Marine Corps. She is due to return to Portsmouth before Christmas.