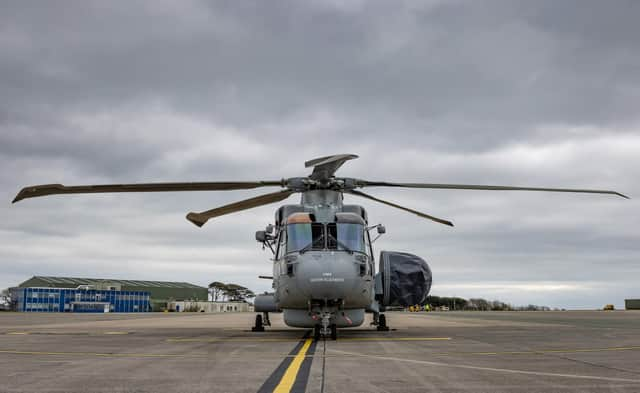 The first of the Royal Navy's new 'eyes in the sky' today entered service – getting ready to protect the nation's flagship.
The first Merlin 'Crowsnest' helicopter – which scours the heavens with its radar looking for potential foes – will now begin operational training, ahead of the maiden deployment of HMS Queen Elizabeth this spring.
The distinctive-looking helicopter – a large radar dome or 'bag' sticks out from the fuselage, earning the aircraft the affectionate nickname of 'baggers' – will provide airborne surveillance and the control of other aircraft (known as ASaC) in the carrier's strike group.
The project had previously been plagued by delays and setbacks.
But now naval aircrews are undertaking their final bouts of training on how to use the new system, designed to protect against missile attack.
Commodore Steve Moorhouse, who is in charge of the UK's carrier strike group, said the new Merlins were the final pieces in the group's large, complex jigsaw. He added: 'It's hugely encouraging to see the progress of the Crowsnest trials. Already one the most advanced submarine hunters, the Merlin Crowsnest will offer long-range intelligence and surveillance against surface and airborne threats, and the ability to command and control strike missions.'