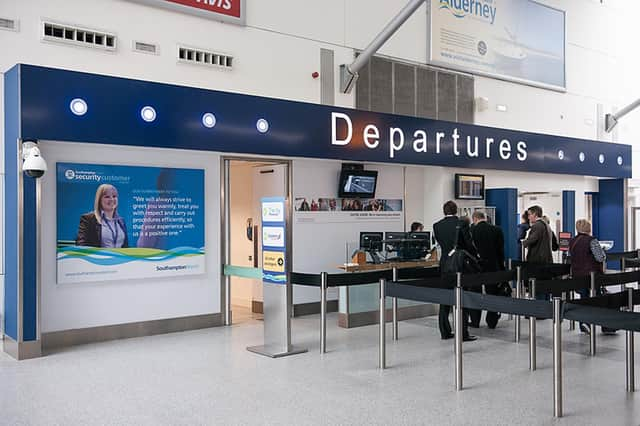 Southampton Airport's departures desk. Picture: Louise Neville
Twenty-two councillors voted in favour of the proposals to expand the runway by 164m.
Thirteen councillors voted against the plans and one abstained.
It comes as all councillors at Eastleigh Borough Council spent 19 hours debating the proposals and listening to both sides of the argument.
Over the past two days hundreds of people watched the online debate over the plans that have literally divided public opinion.
On the one hand, campaigners and some residents called for the plans to be refused on the grounds of climate change, noise and pollution.
On the other hand, residents and the local business community asked for the plans to be approved saying the move would boost the local economy and create new jobs.
Several residents and councillors raised concerns over the impact the runway extension would have on noise and climate change.
Cllr Gerald Vernon-Jackson, leader of Portsmouth City Council, said: 'It's a difficult decision for everybody, it's not clear cut and there's concerns from a lot of people who live nearby about noise.
'The extension of the runway means bigger planes. At the moment it's predominantly propeller planes but it will become jet engines.
'There are also a lot of concerns that we should be flying less, not more, but the argument is people will fly and if they don't fly from Southampton, they'll fly from Gatwick or Heathrow, and it will take longer to get there and that will take more carbon.
'The business community is strongly in favour, a view from Solent Local Enterprise Partnership is that it could bring significantly more jobs locally, and that could be a good thing.
'But that's supposition, and we have to look at the reality and make a best estimate.'
Cllr Sean Wood, head of Fareham Borough Council, said: 'I wrote to Eastleigh Borough Council on behalf of Fareham Borough Council encouraging them to accept it.
'It is a very important hub, and it is critical that it is viable otherwise you will have a lot of people having to make longer journeys.
'I'm delighted that the right decision was finally made.'
The news comes as it was previously revealed that the number of people affected by noise would go from 11,450 in 2020 to 46,050 in 2033, if the expansion went ahead.
But officers said the mitigation measures proposed – including insulation and a cap on vehicles to restrict passengers to 3m per annum – would result in a 'moderate adverse impact'.
In the 19-hour long debate councillors were also told that the expansion would create more than 1,000 jobs, boost the local economy and result in a £15m investment.
More than 200 people had registered to speak at the meeting and made their point perfectly clear.
Tonight several councillors acknowledged they were faced with a difficult decision.
Cllr Margaret Atkinson, leader of the Conservative Group, said: 'The decision the council takes on this application is probably the most important it ever takes as it will shape the future of the borough and of its residents for generations to come.'
Cllr Wayne Irish added: 'This has been probably the most difficult planning application for me in all my 39 years as a councillor on this council.'
A number of councillors said they couldn't support the plans and raised concerns over the impact of the runway expansion on climate change and noise.
Cllr Louise Parker-Jones said: 'I am not reassured there are the right mitigation processes in place. I really fear for Eastleigh, I really fear why this has been pushed through so so quickly. There is no planet B.'
Cllr Tina Campbell added: 'We are in a climate emergency. We can support people get another job. There isn't another planet. We have to prioritise climate emergency.'
Southampton Airport bosses said they would have to face difficult decisions if the plans were going to be rejected.
Steve Szalay, operations director at the airport, said: "It's a very divisive issue. This is our plan to adapt, to make sure we become a viable business again. We cannot sustain loss of £8m a year. There's no maths that suggest the airport will be ok. There's nobody here denying a climate emergency. With a sound economy we can find a technological solution which would decarbonise the country. Back the airport, back the development of green technology. You tonight hold the keys to thousands of jobs. A vote for the runway extension secures our future, it secures current jobs, it creates more jobs."
During the debate councillors were also told that the airport is a lifeline for residents in the Channel Islands.
Talking at the end of the debate, Cllr Keith House, leader of Eastleigh Borough Council, asked councillors to approve the proposals.
It was just over 2.15am of April 10 when 22 councillors voted in favour of the plans, 13 against and one abstained.
A message from the Editor, Mark Waldron
You can subscribe here for unlimited access to our online coverage, including Pompey, for 27p a day.