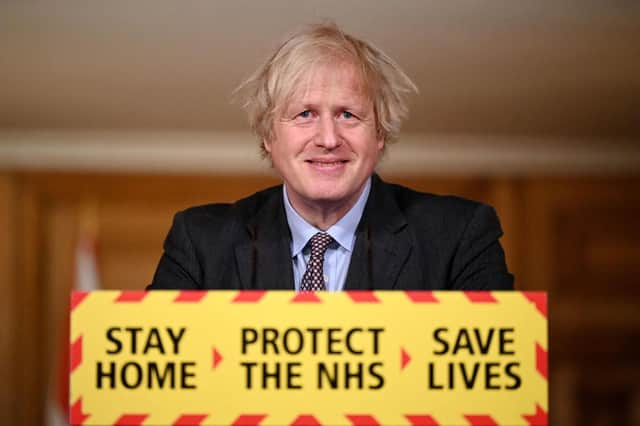 Britain's Prime Minister Boris Johnson attends a virtual press conference inside 10 Downing Street in central London on February 22, 2021, after he earlier set out the Government's roadmap out of the third Covid-19 lockdown. - British Prime Minister Boris Johnson on Monday set out a four-step plan to ease coronavirus restrictions, expressing hope that life could get back to normal by the end of June. In a statement to parliament, he outlined a "gradual and cautious" approach to lifting curbs in England, starting with the reopening of schools from March 8 and non-essential retail from April 12. (Photo by Leon Neal / POOL / AFP) (Photo by LEON NEAL/POOL/AFP via Getty Images)
Locking down has been an ordeal for most people – materially and emotionally. The vaccine programme has enabled us to do more than just endure: to take the fight to the virus. That should give us hope, but we must still proceed with caution.
The priority has to be education. We have all made sacrifices in the last year, but none more so than children who have missed out on so much. We must get them back to school and support their teachers and support staff in the process. Testing will be vital in those efforts. We must also listen to the early years sector too, which has continued to operate in incredibly difficult circumstances.
I am pleased that there are new rules coming in to facilitate care home visits. Covid has separated so many families, with many residents suffering physical and mental deterioration as a consequence of their lack of contact. The roadmap outlines how the general population can also increase social contact.
If all goes well, from mid-April, all retail, personal care such as beauty salons and hairdressers, gyms and other indoor leisure can reopen. Outdoor reopening hospitality would be able to reopen too.
Potentially in mid May, but not before, most of the indoor economy will be able to open too. For weddings the possibility of bigger gatherings will gradually expand. From six people, then 15 in step two, then 30 in step three before being fully back to large events. The road map sets out the earliest dates for this progression, but it will be the data that sets the actual date.
I recognise that still a lot of uncertainty, and with that comes stress. It is vital that, as restrictions are relaxed, we are giving people and businesses as much notice as possible and I have sought assurance from the Government that this will be the case for each sector. There will also be all sorts of things to deal with. For example, driving theory tests taken two years ago will currently have to be retaken before practical tests can take place. I will do all we can to get a common sense approach to these issues so you can get on with your life.
We need to ensure that this lockdown is the last we have to cope with, so it is vital that we all still follow the rules. Just as we have protected our communities, we can help strengthen them too. We can all shop local and support firms who have done an incredible job in holding it together over the last 12 months and keeping people in a job.
We also need to ensure that they have enough funding to see them through. The council still has funding available for businesses and I have been encouraging them to 'get it out the door'. As we l approach the reopening of the economy we mustn't fall at the last hurdle. This country has spent eye watering amounts to help keep businesses through this crisis. If we manage that it will have been worth it, but to have done that and had those firms close in the final weeks of lockdown would be appalling.
Since last year, not a day has gone by without me marvelling at all we have coped with, sacrificed and given to others. You've been stoic and heroic. Let's face the recovery with that same determination and support for each other. Let's rebuild our local economy with the same grit and spirit we've shown in the darkest times. Better days lie ahead.