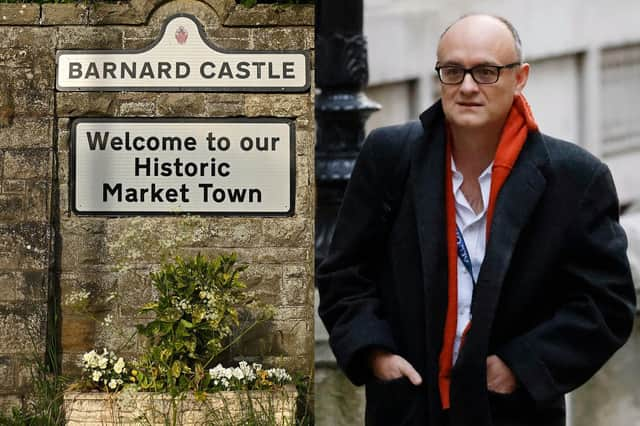 Dominic Cummings and the gateway to Barnard Castle. Picture: Getty
If you voted Conservative at the last election then I'm sure most knew what they would be getting.
After the polished politics of David Cameron and the stoic Theresa May, we now have a maverick prime minister.
From his countless TV appearances we know he shoots from the hip, makes gaffes and is economical with the truth, to put it politely.
It comes as no surprise after the debacle of Dominic Cummings's tenure as Boris's top advisor that the fall-out would be of nuclear level for the PM.
Cummings has never come across as an ethical man or one of integrity.
It's funny how he used to refuse to be questioned by MPs but now he's out of number 10 has made himself available to the select committee for 'as long as they want'.
Whether you are bothered or not, it's nothing more that I expected from a Johnson government, although the premier does seem to have the knack of getting things done – eventually.
She might be a minister, but within any business, there are protocols to follow.
I don't have the phone number of the CEO of Bauer Media, the owner of Wave 105.
I don't think my boss, the programme director, does either. He'd need to speak to the MD who would then speak to the CEO and I'm sure Caroline would speak to her boss who then speaks to the PM.
I do not care who paid for Boris and Carrie's flock wallpaper or how much it cost, or the call to James Dyson so we could all get ventilators.
For me what is important is that people desperate for hospital treatment got, and are still getting, their treatment, unvaccinated people get their vaccines, the economy bounces back and unemployed people get jobs.
Is it possible to incarcerate Dominic Cummings in Barnard Castle?
We can let him out when the important stuff has been sorted.​​​​​​​
Lyrics are a throwback to the bad old days of sexist '70s
I really like the new song by Bruno Mars but it has the most awful lyrics of any song I've heard since 1975. Surely, it must be a pastiche of The Stylistics or the Bee Gees?
But honestly, telling a woman to 'shut her trap' in 2021 really isn't very 'de rigueur'.
Other lines include: 'I've just shaved… like a new-born'; 'I look too good to be alone'; and 'if your hungry I've got filets'. Oh and another, 'I don't bite, unless you like'.
If a chap went up to a lady in Eden on a night out and said any of the above, I think he'd get a slap. Then again, if he looked like and sounded like Bruno Mars, it would be her that would Leave the Door Open – the title of the song.
I was ready for a night with the stars until I discovered…
An invitation arrived in my inbox inviting us to the naming ceremony of P&O's £700m cruise ship Iona in May.
Excitedly I emailed my wife telling her to dust off her best frock. I sent another to my boss booking the day off. One of the perks of the job I suppose, as we were also invited to the naming ceremony of Britannia by the Queen. This time Gary Barlow is playing and others stars are performing. Another email then arrived with the link to the ceremony, which, because of Covid, is happening online.
Two more emails telling Sarah to put the frock away and another to my boss cancelling the day off were sent.
A message from the editor, Mark Waldron.You can subscribe here for unlimited access to our online coverage, including Pompey, for 27p a day.