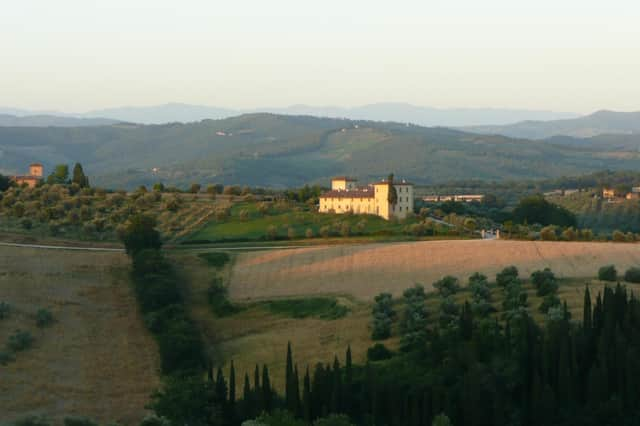 CHIANTISHIRE: The beautiful Tuscan hills... similar to Weymouth
We were supposed to be going to Italy with all the family to stay in a beautiful villa in Tuscany.
Yes, by August we may be able to go there, but we weren't prepared to take the chance so we cancelled.
We have decided we will put off the Italian family adventure for a year and go camping with friends instead.
What could possibly go wrong?
We and two other families will be descending on a field near Weymouth for a week in the summer holidays.
My first ever camping experience was last summer and I have now discovered that I shall be putting up our tent by myself!
Apparently the girls are going to travel down to Dorset separately with the children leaving the men to take all the stuff and put up the tents.
As you might remember from last year, I've only put up the tent once. But that's one more time than our other friends who have never been camping. In fact, they've just bought their first tent.
What worked for me last year was the electric blanket and heater we used, as the temperature plummeted in the evening and, we were toasty inside.
Turns out we have no electricity at this year's campsite. What am I going to do without my creature comforts?
iPads will need to be charged, kettles will need to be boiled and how on earth am I going to blow up our air bed? We've not thought this through!
Luckily one family are seasoned campers, the kind who could light a fire with a flint and set up a filtration system capable of purifying sea water.
I think they are going to be very busy not only looking after their own children, but also us as well, as we struggle to adapt to life without electricity.
I know it's going to be a right old laugh though.
Camp fires, barbecues and tired kids longing to get to sleep thanks to the country air.
Who needs the hassle and stress of flying abroad when a great holiday is available right on your doorstep?
All bad things in the world are down to vast minority
For those of us struggling with the world right now, I want to assure you, it's the vast minority.
Events in Bristol? The vast minority. Here in Gosport, vandals have defaced gravestones in St Anne's Hill Cemetery again. The vast minority. Just like Covid-19, we only hear about the pain and misery it's caused. Like a shot of vaccine in an arm, some truly wonderful local heroes went into the cemetery and cleaned all the headstones. These people are the vast majority, we just don't hear enough about them, like the Bristolians who made tea for weary and upset police officers.
We know the world will never be virus-free, we just need to keep controlling it with positivity and love.
Dial M for mayhem once you explain who the operator was
In our lounge we have a proper old dial telephone. For the telephone aficionados it's the GPO746.
Our kids are proper little techies now and have mastered the remote control, mobile phone and tablet. They can even phone grandma or grandpa with no help required. But can they use the GPO746? No they can't!
They didn't know you have to lift the receiver first. They had no idea what the receiver was. They also didn't understand the rotary dials. First they thought you simply put your finger in and then just moved the dial down to the left!
If you have an old dial phone see if your kids can use it. Hours of fun – just make sure you film it!