Ghosts review: Why this BBC sitcom is the home comfort we all need, and it's right to go out on a high
The news has been a bit of a binfire this week, and it's been a time to take comfort in the familiar, in the things that feel like home. Ghosts (BBC1, Fri, 8.30pm, all episodes on iPlayer) is one of those comforting, homely things.
Watch more of our videos on Shots! 
and live on Freeview channel 276
Visit Shots! now
It's back now for a fifth – and final – series, with just a Christmas special to come after these six episodes.
The decision to end the series has been greeted with dismay, but you can't help thinking that those behind the show – including the six writers and stars, Laurence Rickard, Martha Howe-Douglas, Jim Howick, Ben Willbond, Matthew Baynton and Simon Farnaby, all of whom made their breakthrough on CBBC's Horrible Histories – made the right choice.
It's rare in TV that people leave a hit of their own volition, while they are still loved and admired, and the reasons the show became a hit are all still in place.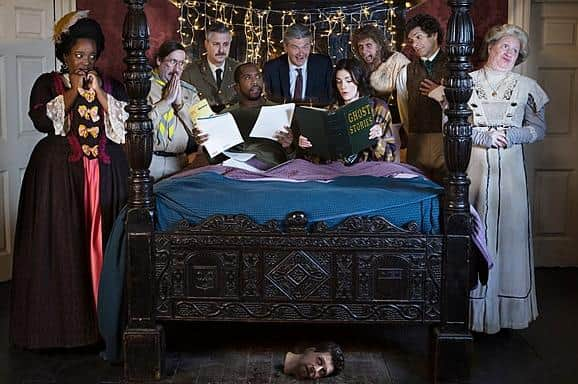 But Ghosts is that rare TV thing. Seemingly a simple premise – a young woman inherits an decrepit old mansion, and through an unfortunate accident is able to see and hear the ghosts which haunt the place – has been spun into a wonderfully warm, funny and complex show.
Through telling the back stories of the ghosts – the six plus Lolly Adefope's Kitty and Katy Wix's Mary – we make diversions into dysfunctional families, repressed homosexuality, women's rights and a whole host of deeper issues, all tackled with an exceptional lightness of touch.
This week's second episode, for example, starts with the young owners of Button House, Alison and Mike (Charlotte Ritchie and Kiell Smith-Bynoe) thinking of selling off some of their land, which prompts Edwardian ghost Lady Fanny (Howe-Douglas) to fulminate about the loss of her home.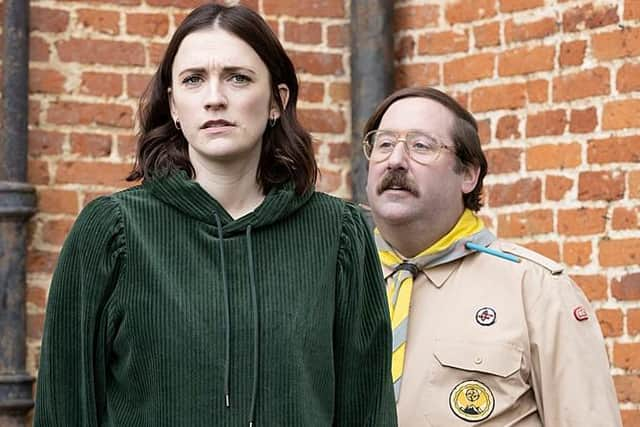 This then leads Scoutmaster Pat Butcher (Howick) and detrousered MP Julian (Farnaby) into an argument over north vs south, which is ended when caveman Robin (Rickard) says: "You know, when I first came here we didn't even have names for places.
"We have no map, no one drew line on picture and said 'this bit my bit, that bit your bit'. No one said 'this is the king, they're in charge', or 'this is my flag, it's better than your flag'.
"These are just stories to tell when really it's just man... other man."
Of course, this being Ghosts, these homilies about home aren't saccharine truisms, so he immediately undercuts it by adding: "Although other tribe came too close, we stab them with spears."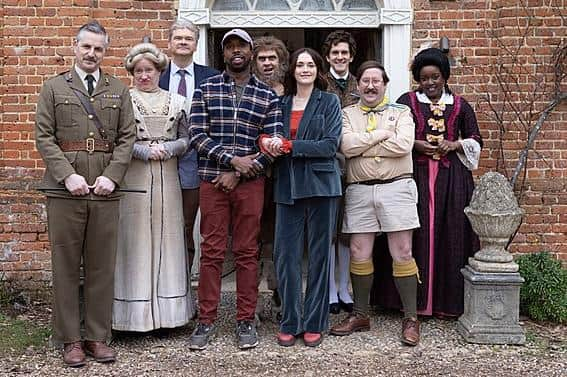 And that's the glory of Ghosts – it combines a rare depth of feeling with a lot of silliness. There are running jokes about Watney's Ale, Julian's love of Sam Fox and lots of fun with Fanny's name.
While each character is fully fleshed out, even frustrated Regency poet Thomas Thorne (Baynton) has been gifted a complex back story, seen in series two's The Thomas Thorne Affair, when his death is seen from multiple viewpoints, until finally, tragically, we understand the truth.
Obviously, for a show involving ghosts, there is a surprising amount to death. A whole episode involving milkmaid Mary being 'sucked off' - Ghosts parlance for ascending to the afterlife - deals wonderfully with grief and loss.
It combines these deeper thoughts with stupid jokes, running gags and a swear-free one-liners, making Ghosts a proper family watch, accentuating the comforting homeliness of it.
As Lady Fanny said this week: "Home is not a place, home is a feeling." And Ghosts will have you feeling joy, laughter, loss and sadness, sometimes all at the same time.
It's something to cherish, before it gets sucked off.