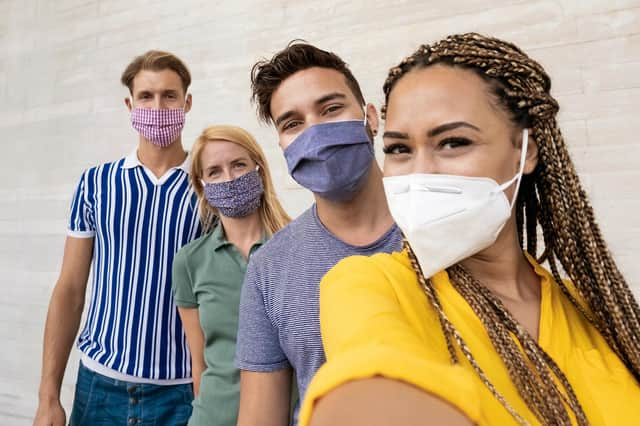 We'll be able to see proper smiles and laugher again when masks go.
It was interesting to see Israel in the news (correct at the time I was writing this. Anything can change these days).
Israel issued a reverse of their 'mask decree'.
In other words, no more masks but you have to have one in your pocket or bag in case the rules change.
When interviewed one woman said: 'It's weird, but a good weird.'
I hope we get to that stage because it sounds fantastic. Until then, we're still in the 'wearing masks stage'.
As a family we managed to pull off an amazing 'front of supermarket' family argument/discussion.
We were about to enter as individuals when my daughter declared she had no mask. Not a problem, as I had a new one in my coat pocket.
However, it was rejected with some passion on two grounds. Firstly, that it didn't feel new. Secondly, it was claimed it smelt of chicken jalfrezi.
This was enough evidence for my daughter that it had been worn before and by someone who'd eaten a curry.
I rejected this complaint and directed my daughter to the shop next to this mini supermarket, pointing out that it was an Indian takeaway. This wouldn't do.
Back to the car we wandered. The car seems to have a constant stock of 'glove box masks' varying in colour and quality.
If there's one market that's boomed, it's the world of masks. I've even become a bit of a connoisseur.
The medical paper ones in blue or black seem most popular. However, I find the black ones can degrade quite fast (although I can find no good data to support this claim).
These masks, before you know it, have an almost fluffy interior that starts to appear. When you put it on, the demand to sneeze or itch is overwhelming. It's for the bin.
Neither blue nor black last long in the pocket and I don't like wearing a scrunched up, creased one because that feels like you're turning up for work in an un-ironed shirt.
A friend of mine has sports branded ones (Adidas and Nike). However, he often loses track as to which needs a wash and therefore, has had to buy far too many.
Another family friend always likes to have that trendy look and spent a small fortune on a pack of four designer material masks.
They look home-made and they also look like they've been produced out of 1970s' paisley underpants. I didn't share that verbally with them. I thought it for safety's sake.
At the beginning of all this chaos, I remember reading an article in which the author believed that soon children would all have designer masks and there would be loads of oneupmanship at school – masks would have become the latest must-have accessory.
Thankfully, that doesn't seem to have been the case.
Instead, simply trying to survive their education and make it count for the rest of their lives, became way more important.
For them, simply trying to stay motivated and not give up on life became the daily task.
For those poor children going into the exam season, it's a case of believing that this moment matters and having the grit and determination to make it to the finish line.
For all those children taking exams (assessments), I wish them well. More than that. I think they've been incredible.
Looking around the world, I'm hoping that one day soon we'll have a 'weird, but good weird' experience when we can all see each others' smiles again.
The thoughts of Chairman Miaow
On occasion, if the mood takes me and I'm feeling a bit bored, I join online chat forums. There's something about that sentence that feels awkward.
Some of the largest meetings of people in the UK are still happily taking place in cyberspace. Sometimes these forums can be a touch toxic and a hasty withdrawal is required. Most of the time, they're simply pseudonyms asking questions about life.
This week, in a moment of wonder with little to do, I got an alert that a conversation was in full flow about 'odd' or 'funny' names for pets. People were posting a selection of examples about animals currently owned by family members, friends, and their own revelations.
There were some beauties and for that reason I spent an hour laughing along. We had a lady with a Pekinese called Gweneth Paltrow. A senior nurse who worked in the radiology department had a cat called Scan. Mr Newton the physics teacher had a dog called Isaac. A cat called Chairman Miaow and someone who named their new kitten Noel Edmonds but couldn't explain why.
I prefer animals with quirky names. I'm not sure about dogs with human ones though. I think someone calling 'Keith' to get their Labrador's attention is plain wrong. I'm glad lockdown is coming to an end because there were 30,000 comments.
It needs to stop. However, my dog is called Elmo (the red puppet monster from Sesame Street). That wasn't my fault though. He was named after the dog breeder's favourite cow (true).
A message from the editor, Mark Waldron.
You can subscribe here for unlimited access to our online coverage, including Pompey, for 27p a day.