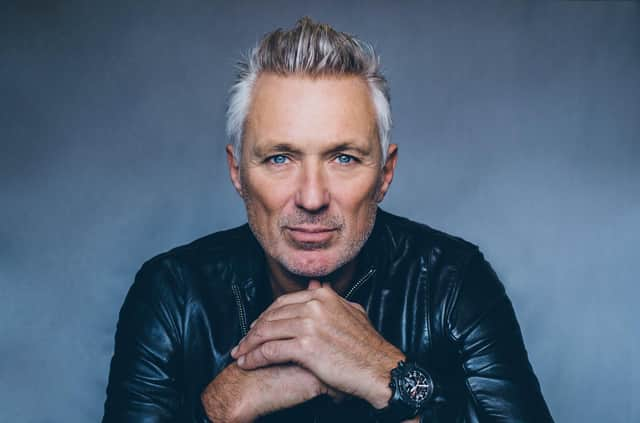 Rick thinks Martin Kemp is a good example of a silver fox.
Not usually a problem unless there's a big job on - which there has been recently
It's a real conundrum for any man in his mid-to-late-40s.
We still feel young, after all, we were in our 20s in the 1990s when style icon David Beckham found fame and Brad Pitt was the hottest male movie star.
Actually, things haven't changed much as these two are pretty much growing old gracefully and stylishly, even if a bit of Botox and a nip and tuck may have helped?
For me, Hollister and River Island are no longer on my list of shops.
H&M and Burtons are a thing of the past.
Short of going out and buying a soft-top Porsche, getting a bikers leather jacket, ripped jeans and white trainers, how does a man of my age look effortlessly stylish?
Printed T-shirts and Logo's are definitely out. Plain is the way forward.
In fact anything displaying a logo is a no-no, but a subtle mark is fine.
The Ralph Lauren polo horse looks fine on a jumper, but not emblazoned on the side of sweatpants!
We even need to think about our hair! If we have any left, highlights and bleaching should be left to footballers.
If you've lost some, clip it away, leave the comb-over to Bobby Charlton.
The silver fox look is very much in – think Martin Kemp or George Clooney, even dare I say, Gary Lineker.
Even better if you have a well trimmed grey beard.
Looking back at my 20s and 30s, I was never really stylish, I never had a 'look'.
Designer was never my thing and I was happier in Marks & Spencer and Next than USC or Superdry.
Getting older I'm more comfortable in my own skin and style.
Ditch the sportswear and that PE teacher look for something more George Clooney or Idris Elba.
Oh hang on, a mate has just bought a hot-hatch Hyundai i30N.
Now where did I put those Lacoste trainers?
Procrastinating my way towards sorting out our house
The amount of time it took me to re-hang a curtain rail sums my life up nicely right now.
My daughter (five ) decided to hang off the curtains in her brother's room. Being a 1930s house, the brickwork is a tad crumbly and down they came.
After filling huge craters, sanding, refilling and then painting, it was time to drill new holes. The trick in an old house is to use a much smaller drill bit than you need as the hole always ends up bigger! Eventually, all that was left was to re-hang them. Procrastination took over and a week later it was done, expect for the fact the ladder and the drill are still in Freddie's room. I'll get round to finishing it one day.
Things to lift the spirit...
Two things have lifted my spirits recently.
One is the fact I am starting to see the sunrise on my drive to work at 5.15am. As I drive through Titchfield and look back over Portsdown Hill, you can see the sky slowly getting lighter.
The other has been paddle boarders.
The calm sunny weather we were enjoying meant flat calm seas. Either walking past people in their wetsuits carrying their boards, or driving along the seafront seeing the odd paddler meandering off shore makes me feel spring and summer are just around the corner.
Today I look out of my window and: 'Storm It's Still Winter Sucker' is here.
I shall keep dreaming and hope after lockdown I can still get into my wetsuit when the time is right!