NHS reservists will improve our health service in the future | Alan Mak MP
The news that Michael Tibbs became the first person to be given a coronavirus vaccine at Queen Alexandra (QA) Hospital, Cosham, hopefully marks the beginning of the end of the pandemic.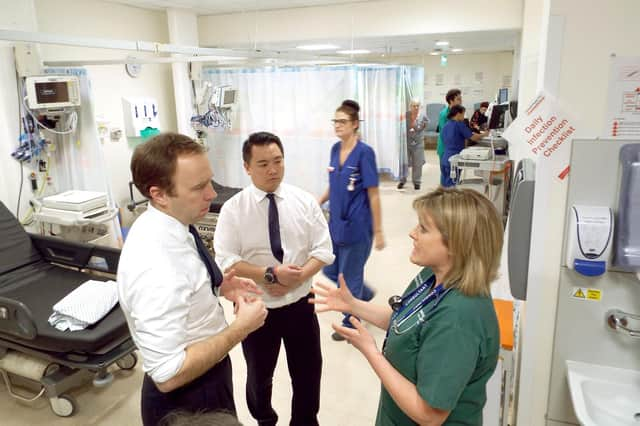 QA is one of 50 nationwide hubs that have been selected by the Government to administer the first phase of the vaccination programme, following the approval of the Pfizer/BioNTech vaccine.
That means at QA people aged over 80, care home workers and NHS staff will be first to be vaccinated, followed by other priority groups in the New Year. I have also been working with our local GPs who will also be running local sites across the constituency and I'm confident they have robust plans in place to ensure everyone will be able to get a vaccine in 2021.
However, this is just the start of a massive effort to vaccinate the whole population. At the forefront of this effort will be organisations such as the St John's Ambulance, which is training around 30,000 people to become volunteer vaccinators.
While the work of the St John's Ambulance to train volunteers to become vaccinators can only be commended, once these people are sent onto the frontline it is vital their skills are retained and fully utilised by the NHS.
That is why in parliament I recently proposed a House of Commons Bill to create a new reservist system for the NHS.
The NHS Reserve Staff Bill, which was backed by the Health Secretary Matt Hancock, would provide a more formal structure – and a uniform – for volunteers already working within the Health Service, and provide a route for retired NHS staff and recent leavers to continue contributing.
But importantly, it would bring vaccinator volunteers inside the NHS family, meaning healthcare planners would have a better up to date picture of numbers and those that have undertaken the right training, provided by organisations such as St John's Ambulance.
The NHS Reservists will also ensure that these volunteers' skills are retained and the hours of training they received is not lost, in case of future healthcare emergencies.
The Health Secretary is launching pilots in all seven NHS regions across England to explore how the NHS Reserves can work in practice – and I hope they can be expanded nationally in the coming months.
As we begin to mobilise thousands of vaccine volunteers, the NHS Reservists system has potential to have a positive impact on ensuring a successful rollout of the coronavirus vaccine and by doing so help our lives return to normal.